Collaborative Working Solutions.
Create a modern, digital workplace that connects teams, fosters teamwork, and enables an agile workforce with 848. Empower employees with intuitive tools and trusted IT solutions for flexible and collaborative working.
Collaborative working has never been more important. Agility is vital for modern businesses as the need to enable anytime, anywhere work becomes a priority. Your staff need to access their digital workspaces and stay productive whether they're working in the office, from home or on the go.
At the 848 Group, we plan, build and run collaborative working solutions that foster teamwork, breakdown silos and improve communication whether employees are working in the office or remotely.
We are proud to be partnered with leading tech innovators including Microsoft, Anywhere365, Google, Lumino AV and more, to build complete and cloud-connected solutions that boost collaboration and communication in an agile workforce.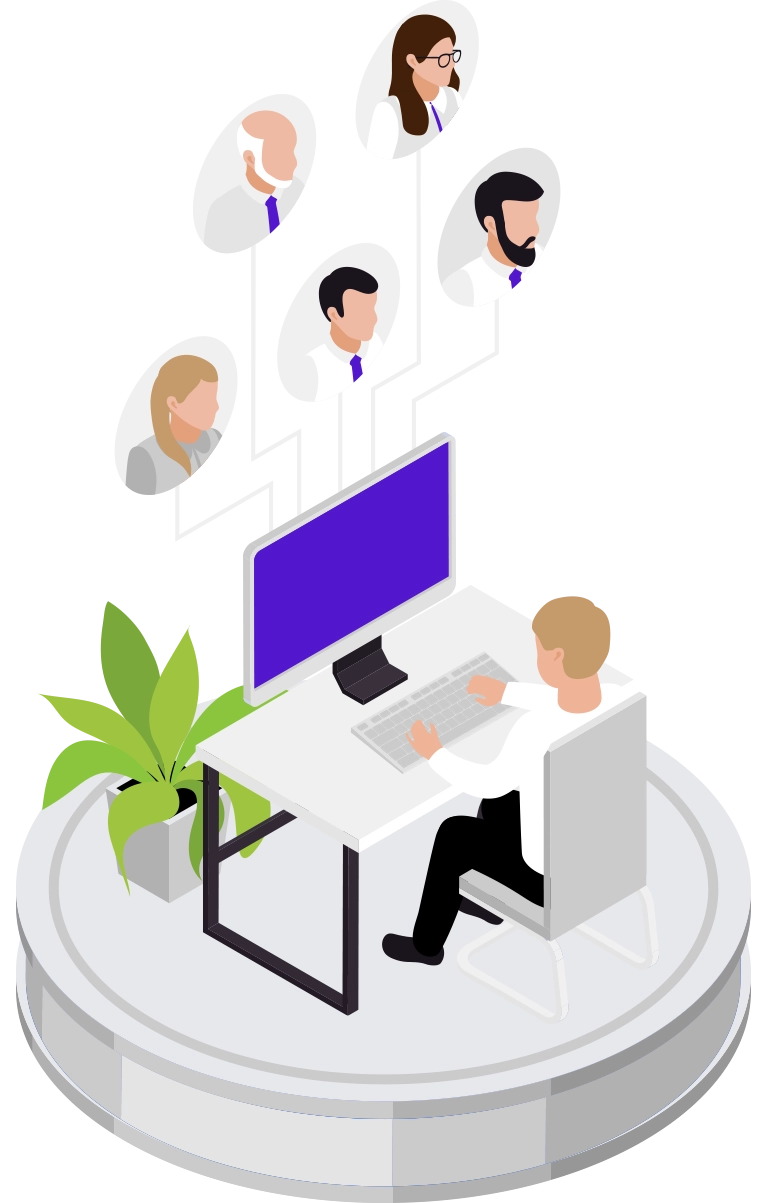 Reap the Benefits of Collaborative Working with Agile Solutions from 848.
Enable Agile Working.
With the majority of employees now working away from a traditional office at least part of the week, agile working is more popular than ever.
Your staff need the tools that enable them to stay productive and connected wherever they are, from any device.
We help enable secure, remote work and anytime, anyplace connectivity with modern workplace solutions such as cloud productivity suites, virtual desktops, business applications and more.
Foster Teamwork and Innovation.
Facilitate real-time collaboration and bring teams together in tech-enabled spaces that help them innovate faster.
848 can deploy cloud productivity platforms such as Microsoft 365 and Google Workspace, that allow employees to work on projects together across locations.
We can also design and build interactive physical spaces blending intelligent IT and AV solutions that help teams utilise their collective creativity and generate their best ideas.
Boost Communication.
Improve the way you interact with your teams, customers and partners with cost-effective solutions for all your communication channels.
We deliver solutions that help you effortlessly engage your customers, streamline your communication flows and make for meaningful conversations.
From unified communication platforms, to cloud contact centres, dialogue management solutions to telephony and more. We can help boost efficiency across all communication channels.
Collaborative Working Solutions that Make Meetings Matter.
Enjoy Seamless Video Conferencing.
With more people working from home, fostering virtual connections and effective communication is crucial. 848 can plan, build and run intelligent solutions that make virtual meetings and video conferences as effective and productive as face-to-face conversations.
Bring staff together across locations for regular meetings or spur-of-the-moment catch ups with our range of solutions and peripherals for audio and video conferencing.
Facilitate Meaningful Meetings.
Physical meeting spaces should inspire and facilitate teamwork. We blend business changing IT with best-in-class audio visual technology to build meeting solutions that bridge the gap between in-person and virtual communication.
Enable meaningful collaboration with unified comms and meeting room solutions that seamlessly integrate within your IT infrastructure.
Seamless Solutions that Benefit End-users and IT Teams.
Break Down Information Silos.
Siloed solutions create information barriers and cause headaches for your IT teams. We can build bespoke business applications and cloud platforms that unify your data and allow you to run your entire business.
Our solutions such as SureStart get you up and running with modern solutions to improve your efficiency and centralise your processes.
Break down silos, streamline your operations and create a truly connected business by seamlessly sharing data across all departments and functions.
Simplify IT Management.
Your IT should help, not hinder. We enable you to focus on what matters most. With intelligent solutions such as Microsoft 365 and Azure, you benefit from enterprise-class security, flexibility and manageability.
As a leading managed services provider, we can also provide ongoing flexible support to reduce the burden on your IT teams.
Whether you need a full managed service package or just an extra helping hand for a specific project, we can provide valuable support you need.
Unlock Limitless Productivity.
Enabling a flexible workforce shouldn't hinder business processes – in fact it provides the opportunity to make them better.
Automate arduous admin tasks and get AI-driven insights to make smart choices. Get dialogue management systems to improve the way you manage customer conversations, and virtual desktop solutions that simplify remote onboarding for new starters.
We have the tools and solutions to help you stay productive – and we can train you to get the most out them.
Your Dedicated Microsoft Solutions Partner.
848 is a Microsoft Certified Solutions Partner for Modern Work, Azure Infrastructure, Digital & App Innovation, and Business Applications, with 6 Microsoft Specializations. This demonstrates our leading knowledge and expertise in the design, build and implementation of solutions underpinned by Microsoft technologies.