---
Your people are at the heart of your business. That's why it's important to ensure the employee experience is a positive one.
Microsoft Viva is a new employee experience platform designed for the hybrid era. It has been created to connect teams in a new way and facilitate learning in the new world of work. On Microsoft Viva, employees can interact with personalised features, explore company news, get data-driven insights, learn from topical conversations and more. This brings teams together to help keep everyone in the loop and connected.  
Microsoft Viva is powered by Microsoft 365 and experienced through Microsoft Teams. It leverages the applications that employees are already familiar with to provide them with an insightful and more connected employee experience.
94% of employees say they would stay at a company longer if it invested in their learning and development. Teams across the organisation can access learning and training resources with Viva Learning, and managers can track learning progress and provide help where it's needed.
---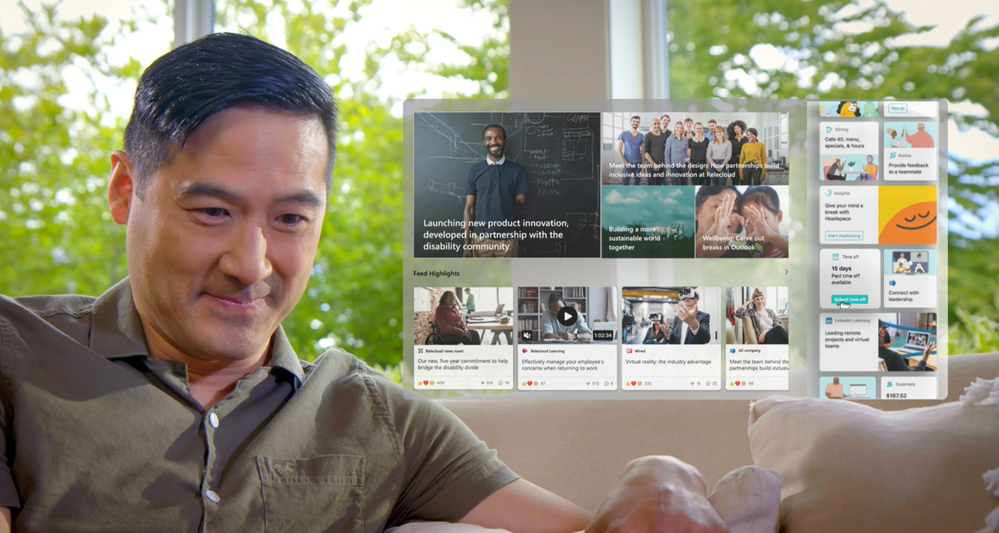 Microsoft Viva – A connected employee experience platform
Microsoft Viva has 4 Viva elements that create the connected employee experience platform. It surfaces data, resources, and information with intuitive features to help people turn insights into action. The platform focuses on creating a great employee experience so that employees feel empowered to deliver great results and the best possible customer service.
Viva Connections
Viva Connections is incorporated in all Microsoft 365 plans with SharePoint Online. Microsoft Viva is accessed in Microsoft Teams. It gathers relevant company news, topic conversations and resources into the familiar applications employees use on a day-to-day basis.
Viva Connections provide users with an intuitive centralised dashboard and feed, where employees can share insights, make recommendations, and respond to news and updates on any device. It's simple to deploy using your existing infrastructure backed up by Microsoft security.
Viva Learning
Viva Learning gives users access to formal and informal learning and training whenever it's required right from within Microsoft Teams. Viva Learning incorporates employee learning and development of skills into a familiar employee location. With Viva Learning, it's easy to learn new topics and access resources whilst in the flow of work. Viva also features LinkedIn Learning. Users will have access to an extensive database of courses that help individuals develop their knowledge and skills.
Share engaging content from Viva Learning with employees in a Teams chat, message, or email. A learning tab can be added to the Teams channel where it's easy to recommend content to colleagues and track progress of team member learning journeys.
Viva Topics
With Viva Topics, it's easy to find, access and utilise expert knowledge and information, so people can onboard insights and turn them into actions. Viva Topics uses AI to automatically process and organise company information and data. Topic pages are automatically constructed using recommended definitions, related conversations, and relevant content.
Using any Microsoft 365 app, users can display topic cards to help develop knowledge and understanding right in the context of work. Empower people with the information they need using Microsoft Search to explore topics and gain a quick understanding of subjects and content, whenever they may need it.
Viva Insights
Viva Insights within Microsoft Teams helps users foster a better work life balance. Viva Insights enables users to balance work productivity and wellbeing to maintain a positive employee experience. Personal insights help users to structure their virtual workspace by scheduling breaks before calendars fill up and assisting with mindfully disconnecting in the evening. With Viva Insights it's easy to manage meetings, and reserve time for focused work. The insights for individual users are completely private – admin staff or managers cannot view personal insights.
Viva Insights can also be used in Outlook to provide employees with daily briefing emails. Briefing emails help users manage their calendar to better prepare for the day ahead. It includes aspects such as alerts regarding outstanding follow-ups, surfacing information and data relevant to upcoming meetings, and suggesting appropriate times to complete focused work.
---
Implement a connected employee experience platform with 848
Microsoft Viva and its four Viva modules – Viva Connections, Viva Learning, Viva Topics, and Viva Insights, are now generally available with the purchase of the new Viva suite plan. Microsoft Viva suite is a subscription plan for users to access all of the Viva modules. Users who opt for the Viva suite subscription also receive the new Ally.io module next year at no additional cost.
For more information about Microsoft Viva and how to implement the features into your organisation contact the 848 Group. 848 is a Microsoft Gold Partner with over a decade of experience in delivering Microsoft solutions.
Kate is a Marketing Executive researching and writing about emerging technologies and the cloud on a daily basis. She creates informative and educational content assets such as blog posts, articles and resources using strategic messaging to illustrate how a modern IT landscape can deliver real business value.