Let's Talk Teams: New Features Coming To Microsoft Teams
---
During Microsoft Ignite, Microsoft demonstrated the new capabilities within Microsoft Teams that would soon be available to users. Microsoft showcased rich new features and updates that have been designed to increase connectivity, accessibility, and integration with business applications.
In our evolving digital world, we've witnessed a tremendous growth in virtual networking with people collaborating online more than ever before. Microsoft Teams now has over 250 million monthly active users, and has become the new way workforces interact, collaborate, and stay productive.
---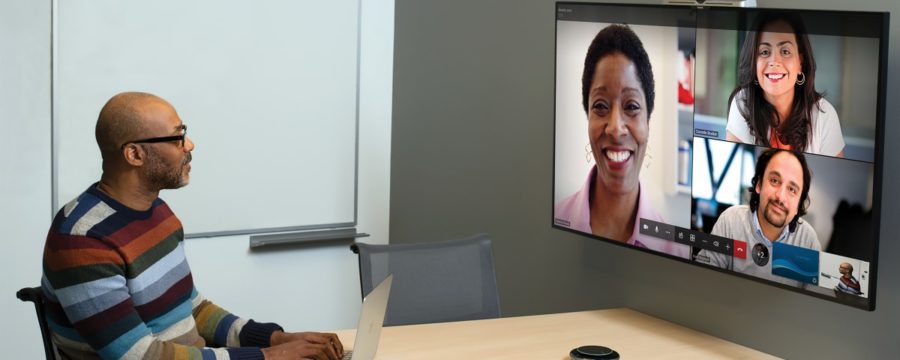 Let's talk Teams: new features coming to Microsoft Teams
An insight into new capabilities in Microsoft Teams
Microsoft has installed new integrations that build bridges between business processes and collaboration. The new updates and features coming soon to Microsoft Teams create a digital workspace that will empower users to achieve more.
Teams and Dynamics 365
Microsoft has built new integrations between Microsoft Dynamics 365 and Teams. You can now centrally connect the right people and the right information without switching between apps. For example, you can search for a Dynamics 365 Sales customer record directly from within Teams. You can send, share, and edit in real-time. This simplifies information sharing and collaboration across Office apps and Teams. Users will also be able to Teams chat and call within Dynamics 365 with the new integrations.
Enhanced Teams integrations
Soon it will be possible to integrate software vendors such as Salesforce, SAP, Adobe, Workday, and Atlassian, and bring their app systems into Teams. This will enable you to reach more users with the collaborative tools and key information you need right at your fingertips without having to leave Teams.
Teams app store redesign
The Teams app store has been redesigned and you can access it very soon. The new app store features an optimised landing page that will showcase recommended applications and platforms based on your preferences.
ACS integration
As of December 2021, Teams will be integrated with Microsoft Azure Communication Services (ACS) to facilitate better voice, video, chat, and screen sharing on any mobile device. You will be able to create a custom external web portal with ACS and Teams interoperability, while your colleagues continue working on the familiar Teams platform.
Custom chat experiences
Soon application creators leveraging the Microsoft Power Platform, will be able to utilise Teams chat experiences in custom business applications built with Power Apps. The Microsoft Power BI app for Teams is now available with a variety of ways to communicate and collaborate. It encompasses new tools to help you create a better data-driven working environment.
Moveworks Team app
The Moveworks Teams app is a cloud-based AI platform that automatically resolves user IT support problems. Moveworks relieves pressure on IT helpdesks as employees can report their IT issues directly to the Moveworks chatbot. The bot then instantly triggers backend automations to fix the problem within seconds. Moveworks in Teams supports English, Spanish, French, German, Portuguese and Italian.
---
Leverage the new features within Microsoft Teams for your business with help from the 848 Group
Microsoft Teams has extended its core collaborative tools and features to make apps, communication, and business processes more seamless and efficient. The new capabilities within Teams are designed to limit context-switching and boost integration and accessibility of applications.
If you want to discover more about Microsoft Teams or modern workplace solutions for your business, get in contact with the 848 Group. 848 is a trusted Microsoft Gold Partner with over a decade of experience working with Microsoft business applications and deploying cloud-first solutions.