New Customers Save Over 15% on Power Platform and Dynamics 365.
Get more out of your data and improve process efficiency, with this cost-effective route to Microsoft's leading low-code platform and business intelligence tools. 
New customers purchasing Dynamics 365 and Power Platform products get a 16.67% discount on monthly subscriptions until the 30th of June. This promotion is low-risk, low-commitment, and helps you advance your digital capabilities at a reduced cost. You can try Dynamics 365 and Power Platform products at a lower monthly subscription fee and without the need to commit long-term. 
Transform the way you run your business, and do it before the 30th of June.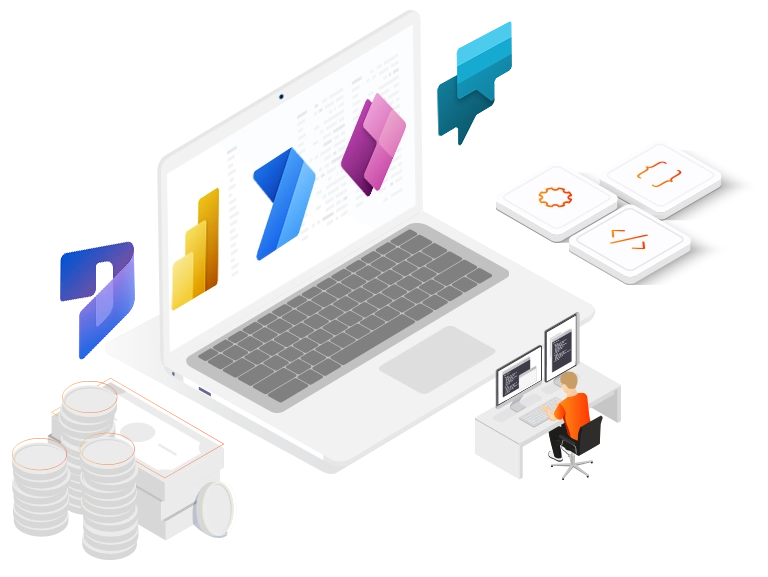 Harness the power of your data

with low code.

Streamline processes with automation.

Enhance productivity with AI capabilities.

Make smarter and more informed decisions.
The 848 Group is a Tier 1 Microsoft Solutions Partner, we can provide technical guidance and advice to help you adopt Dynamics 365 and Power Platform and gain maximum value from your investments. 
Register Your Interest Here.
Learn more about Dynamics 365 and Power Platform.

Microsoft Dynamics 365.
Say goodbye to information silos and improve cross-departmental collaboration. Microsoft Dynamics 365 offers a range of intelligent cloud-based applications to connect and run your entire business. It provides a secure single point of truth for all data, preventing missed opportunities and reducing errors. 
Dynamics 365 enables your employees to manage and collaborate on core business processes within their Modern Workplace environment, so they spend less time switching between apps and more on meaningful work. Benefit from a centralised platform to enhance sales capabilities, improve customer relationships, streamline operations, and more.  
Find Out More

Microsoft Power Platform.
Microsoft Power Platform is a collection of low-code tools that make building apps and business processes achievable for every employee. Put the power of automation into the hands of all users with a low-code approach to analytics, development, and more. With no extensive development skills required, everyone in your business can harness the tools within Power Platform to analyse, act on and automate business data.  
Utilise Power BI to harness AI-driven insights, build no-code apps with Power Apps, create intelligent chatbots with Power Virtual Agents, and use the tools within Power Automate to streamline processes. All components of the Power Platform work independently of one another to improve business processes, but can seamlessly integrate to create scalable business solutions. 
Find Out More
Read Our How We Helped Our Clients Achieve More with Microsoft Solutions.
Your Dedicated Microsoft Solutions Partner.
848 is a Microsoft Certified Solutions Partner for Modern Work, Azure Infrastructure, Digital & App Innovation, and Business Applications, with 6 Microsoft Specializations. This demonstrates our leading knowledge and expertise in the design, build and implementation of solutions underpinned by Microsoft technologies.