---
What is a modern workplace?
When you hear the term "modern workplace', what comes to mind? Do you imagine a futuristic office that has a fresh layout and comes with a pool table, dart boards and nap pods? Or do you imagine a very spacious and open-concept office that looks more like a co-working space, that comes fully kitted with bean bags and standing desks.
If you imagined any of the above, then your idea of a modern workplace isn't quite right.
But why is this the case?
While certain aspects of the workplace examples that I've listed are being incorporated across different leading companies, like Google, Facebook, and Amazon, they are not the key components that define the modern workplace.
The modern workplace isn't defined by cool gadgets and gizmos, pool tables or aesthetically pleasing office layouts. It is defined by a business's ability to enable its employees to produce their best work, from any location. This is done by enabling them with the right tools and environment to do so.
For an organisation to truly embody a modern workplace, it must embrace the realities of how people want to work in today's world and be willing to incorporate digital workplace solutions that support that.
---
What do the current and future employees want?
Employees want the ability to work securely from anywhere, anytime, and on any device. To achieve this, they must be able to access all the tools, data, and documents that they need without disruption.
To retain staff and attract the employees of the future, businesses must leverage the power of automation, artificial intelligence, and digital tools that will streamline processes and enhance efficiency. Employees want the ability to remain connected, secure, and productive irrespective of their physical location.
---
Defining a Modern Workplace
Technology is a key enabler of change, and the modern workplace is a complete digital environment. A modern workplace unifies people, processes, systems, and communications. It encompasses a range of cloud IT products, solutions and services designed to enable secure anywhere working.
A modern workplace provides a single, central location for employees to securely access all their documents, apps, data and more, regardless of where they're located. With a goal to maximise employee satisfaction, streamline business processes and increase productivity and efficiency, a future workplace uses technology and advanced approaches such as AI, automation, zero-trust, and cloud infrastructure.
---
Why should businesses adopt a modern workplace?
Now that we've established what a modern workplace is, and why employees of today expect it, let's look at the key business benefits.
Effective communication across devices and locations
In the modern working world communication has become essential. More and more businesses are relying on instant messaging, voice calls and video conferencing. Whether you're discussing tasks and decisions internally or talking to a customer or supplier from outside of the business, every organisation needs effective communication methods and channels to host meaningful conversations.
Modern workplace technologies such as Microsoft Teams are completely cloud-based. Employees have the ability to communicate and collaborate with each other from anywhere with an internet connection. Microsoft Teams is a shared workspace software bringing chats, meetings, groups, channels, and files all in one place. With a goal to unify and connect workforces across locations, Teams helps businesses foster communication and virtual connectivity in the modern working world.
---
Empower employees with the tools to foster secure collaborative working
Perhaps one of the most important reasons to adopt a modern workplace is that it will give employees unparalleled access to business resources. Using cloud-based solutions, like Microsoft 365 will allow businesses to make company data extremely accessible and secure at the same time. This will also give team members the flexibility to get their work done around the clock.
Solutions like Microsoft 365 are designed to help organisations foster collaborative working with innovate tools, features and apps such as Office 365 and SharePoint. Access email and align calendars to improve organisation of meetings and schedules. Collaborate, edit and share documents in real time across shared storage in the cloud and business applications.
A Microsoft modern workplace is hosted on Azure, a world-leading secure productivity cloud. Backed by the best-in-class threat protection, a Microsoft modern workplace has the security features to safeguard people and data regardless of where they're location.
---
Automate and streamline business processes
IT is supporting modern ways of working. More and more businesses are benefitting from simplified IT management and streamlined operations thanks to built-in automation and powerful insights.
Automation is a key method within a modern workplace enable smarter working and optimised IT services. Using digital tools, many traditionally manual tasks, processes and workflows can be automated. This saves businesses time and money, enhancing efficiency and freeing up time for more meaningful work.
Adopting a tool like the Microsoft Power Platform gives organisations access to Microsoft Power Automate. This tool can enable your employees to automate most of the repetitive and mundane tasks within your business saving on resources, time, and costs. Implementing automation typically enables organisations to achieve between 20% and 40% cost savings.
---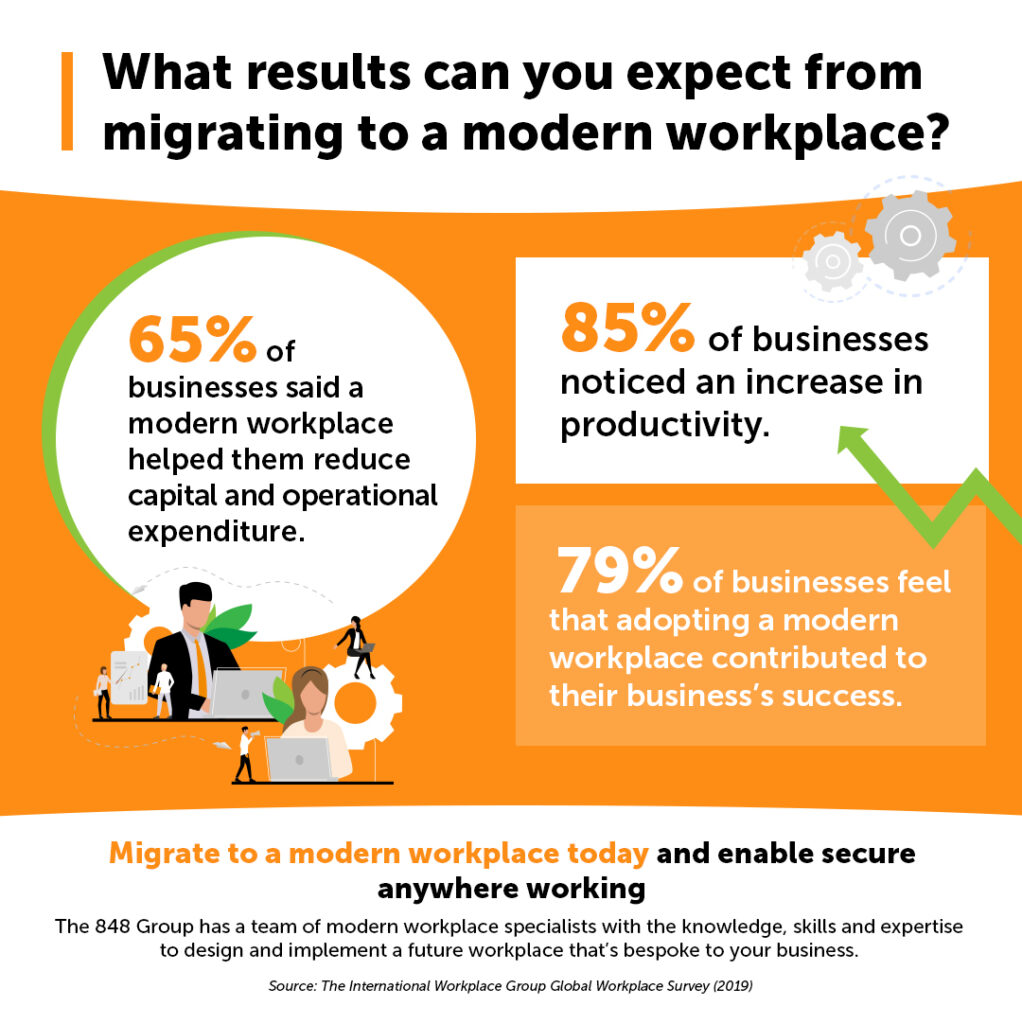 ---
Are you ready to migrate to a modern workplace and enable anywhere working?
By now you're probably aware of why it's a great idea to adopt a modern workplace within your business.
But you're probably wondering "how to do all of this?"
If that's the dialogue that's going through your head right now, don't worry.
'The how' is our specialty. With a specialist modern workplace practice, 848 has 11 years of experience and team of Microsoft experts to make your workplace of the future a reality today. Just contact one of our team members and tell them about your business and what you want to achieve.
---
Thulani is a digital executive and technical writer. He researches new and emerging IT solutions and constructs relevant content that is both informative and easy to digest. Thulani writes articles that provides clear insights for business users.