---
The manufacturing industry has experienced a dramatic shift over the last 2 years as the pandemic has created all new challenges for industrial businesses. Manufacturers witnessed significant disruption surrounding business continuity, operational visibility, employee safety, supply chain complications and more.
This heightened the need for digital innovation. Now, more and more businesses have come to the realisation that technology is a necessity for a sustainable future. We are currently witnessing the manufacturing industry transition to digital and cloud-based operations on a global scale. According to a study by Deloitte and MAPI, 62% of manufacturers are allocating more budget to smart manufacturing supported by digital transformation and the cloud.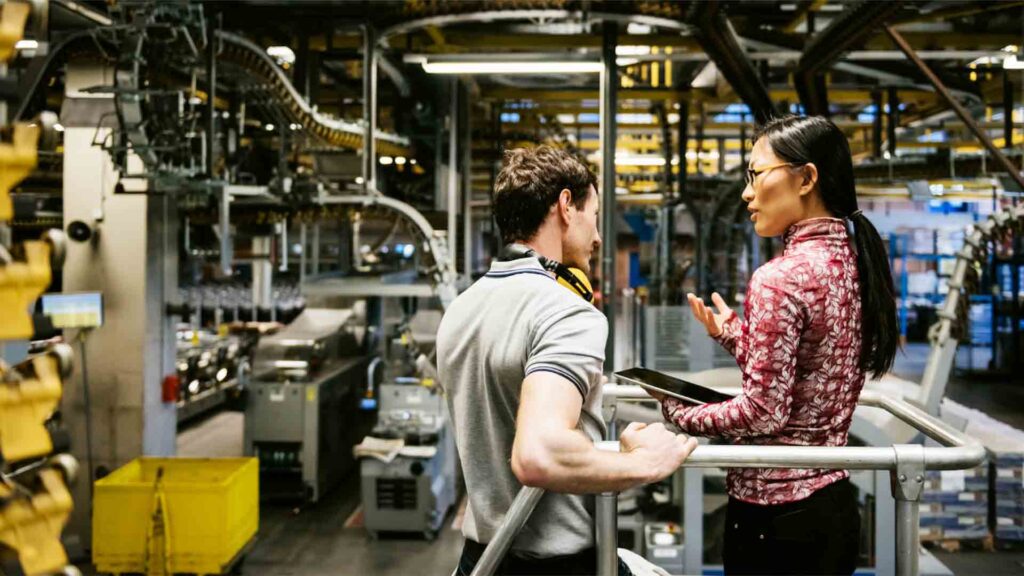 ---
Investing in the frontline workforce
Businesses that are investing in their frontline are reaping the benefits of accelerated growth and productivity. When the working world divided into those who could operate from home and those who could not, the frontline transformed.
Microsoft's latest technologies and its partner ecosystem have supported the drive to digital innovation for workers across the manufacturing industry. From connecting and communicating expertise, to being able to rapidly deliver remote assistance, manufacturers are leveraging bespoke frontline experiences to enable efficient and effective ways to work.
Gartner predicts that:
35% of the customer service workload will be done through some form of remote work by 2023.
By employing IoT and remote services, manufacturers can increase technician productivity by an average of 25%.
---
Leveraging Microsoft Teams in the Microsoft Cloud for Manufacturing
Microsoft Teams is a leading cloud collaboration platform that unifies workforces across locations. Microsoft Cloud for Manufacturing provides industry specific solutions to drive new levels of productivity, asset efficiency and operational visibility across the manufacturing value chain.
Microsoft has integrated the power of Teams across its new capabilities in the Microsoft Cloud for Manufacturing ecosystem of solutions. This integration has accelerated productivity in hybrid work scenarios. Remote insights from securely connected IoT assets and products, can now be connected with workflows in Microsoft Dynamics 365 business applications.
---
Combining the power of Microsoft Teams with mixed reality to support the frontline
Microsoft has developed and invested in partnerships with industry hardware leaders to create an effective and connected collaboration solution for the frontline. Realwear is the industry leader for powerful, voice operated headset computers and assisted reality wearable solutions. Microsoft has partnered with Realwear to design and integrate Microsoft Teams with bespoke headsets for the frontline workforce. This mixed reality innovation has transformed the way frontline workers operate, share information, and gather insights in real time.
Frontline workers can use the voice operated headset computers to access the right expertise from wherever the other person is located, all while working hands-free and focused on the job. This technology also enables manufacturers to easily make and receive approval requests from the frontline.
In order to run a seamless operation, it's essential to be able to signal approval requests for machine equipment or other routine maintenance wherever and whenever required. Microsoft's partnership with DocuSign means eSignature capabilities is everywhere you want it to be within Microsoft applications including Word, Outlook, Teams, SharePoint, and Dynamics 365.
Microsoft's manufacturing customers state that Microsoft Teams is a "mission critical platform for keeping the lights on". Teams is not just being optimised for frontline workers, it has been a crucial collaboration platform for manufacturers in terms of keeping their customer's businesses online and communicating as well.
---
Cloud for Manufacturing from 848
Frontline workers are the backbone of the manufacturing industry. Upskill and empower your workforce and drive new levels of productivity and operational visibility with solutions for manufacturing from 848. We can design and deliver a cloud-first IT solution that algins with your business requirements. We will integrate your bespoke solution into your existing infrastructure and operations, so that your teams can adapt in line with the processes that they're familiar with.
If you're interested in Microsoft Cloud for Manufacturing solutions, then please get in touch with the 848 group. We're a trusted Microsoft Gold Partner with over a decade of experience and a dedicated team of Microsoft certified staff.
Kate is a Marketing Executive researching and writing about emerging technologies and the cloud on a daily basis. She creates informative and educational content assets such as blog posts, articles and resources using strategic messaging to illustrate how a modern IT landscape can deliver real business value.