Microsoft Dynamics 365 Business Central
Dynamics 365 Business Central brings together everything you need to run your business. Access tools that empower you to streamline processes, make smarter decisions, and accelerate growth. Designed for small and medium-sized businesses, Business Central provides you with an intelligent and unified business management platform.
Built to connect your business, Business Central unifies sales, finance, operations, services and more. Break down silos and unify your teams with a comprehensive business management solution.
The 848 Group is a Microsoft Gold Partner with a specialist team dedicated to delivering business applications underpinned by Dynamics 365. We design, build, and run solutions underpinned by industry leading Microsoft technology to help you optimise business processes and achieve your goals.
848 has over a decade of experience in delivering projects to businesses across industries – and we have an array of client case studies to show for it.
Run your entire business with Dynamics 365 Business Central
What is Business Central and what can it do for your business?
Business Central is a cloud-based business management solution built for growing businesses. It's an intelligent end-to-end business application that falls within the leading Dynamics 365 suite. As a comprehensive solution that connects business functions, Business Central provides everything you need to optimise your business. Streamline processes, unify teams, and help people operate efficiently to deliver better results.
With cloud-first functionality, Business Central enables secure access across locations, enabling a flexible working environment. As a single solution, it's quick and easy to deploy, implement and configure. The intuitive design makes it simple for your teams to adopt and integrate into their daily processes. Connect sales, service, finance, operations teams and more with ease with Business Central.

With Dynamics 365 Business Central you can:
Discover critical insights and enhance productivity
Unify processes, people and data insights using Business Central. Gain access to intelligent features, guidance, and dashboards to help your teams make better decisions faster.
Unlock full financial visibility while fostering compliance and security
Gain access to real-time performance analytics, enhance forecasting and simplify financial management. Business Central empowers your teams with the tools to assess business financial data with the confidence that information is secure.
Migrate to the cloud with ease
In modern business, agility is key. Business Central is a cloud-connected solution that makes moving to the cloud simple. Implement new capabilities and strategic models into your business with fast deployment and security. Adopt a comprehensive and scalable solution that evolves with you.
Complete projects within set budget and time frame
Business Central provides your people with the things they need to deliver successful projects. Improve, cost, resource, and time management.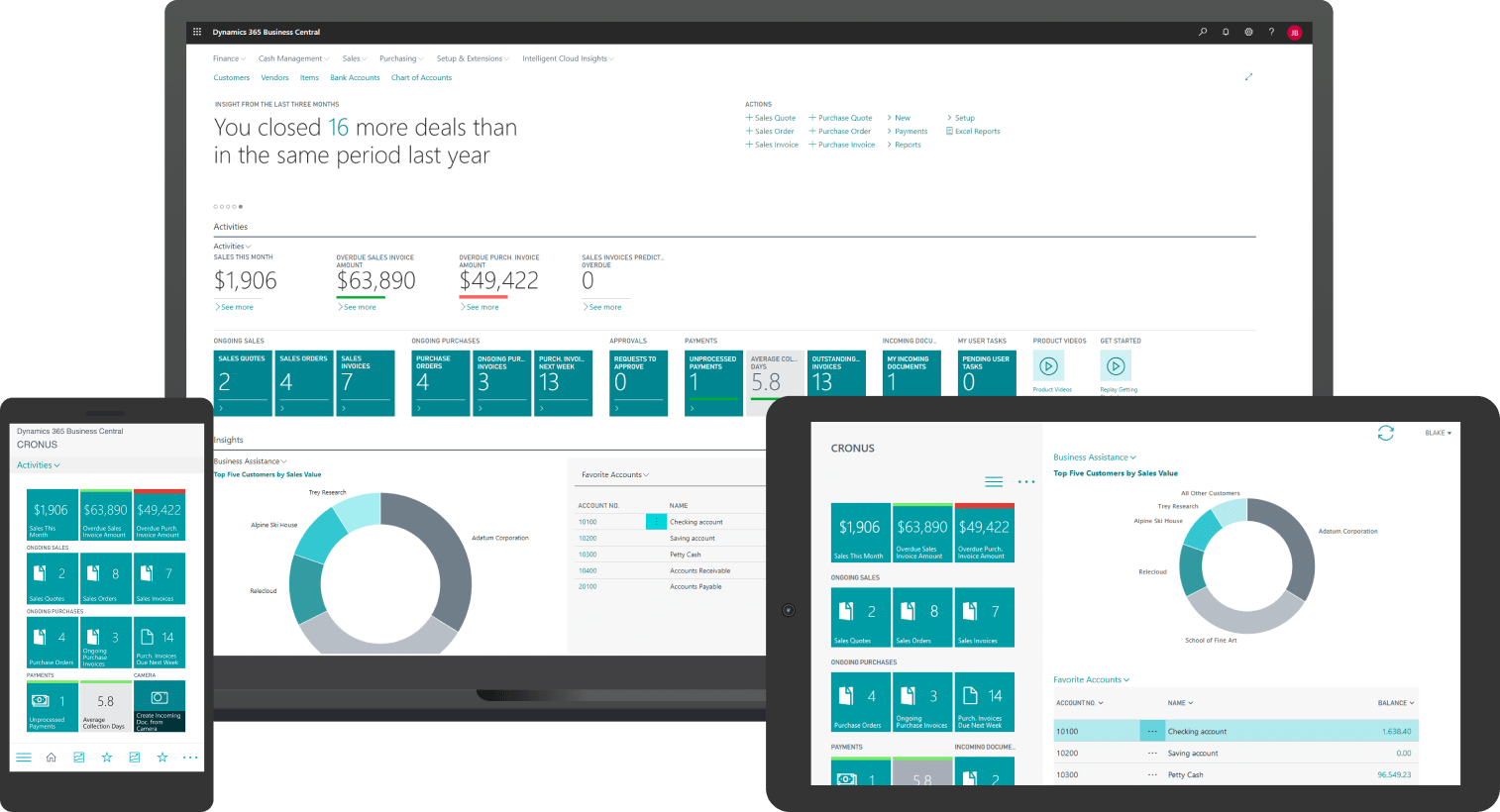 Upgrade your inventory and supply chain management techniques
Optimise inventory management, adapt to fluctuating business demands, and monitor manufacturing, purchasing and warehouse facilities with Dynamics 365 Business Central.

Transform the way you run your business with 848
Dynamics 365 Business Central is a highly adaptive and feature rich solution that can transform the way small and medium-sized businesses manage processes.
848 has a team of Microsoft Certified staff to deploy a tailored Dynamics 365 Business Central solution for your business. We take the time to understand your business goals and develop a flexible and scalable solution that meets your business needs – now and in the future.
Your Dedicated Microsoft Gold Partner.
848 is an experienced Microsoft Gold Partner with 5 Microsoft Advanced Specializations. This demonstrates our leading knowledge and expertise in the design, build and implementation of solutions underpinned by Microsoft technologies.

Want to know more? Send us a message and a member of the team will get back to you shortly.