---
Explore how you can boost your agility and financial management with Dynamics 365 Business Central.
Improving and optimising financial management with Dynamics 365 Business Central couldn't be easier. Within this comprehensive ERP solution, you can access a full range of financial management tools to help you enhance your business. It not only gives executives and other users an optimal platform for managing business and finance processes; it provides deep insights and analytics to help guide strategic initiatives and generate rich financial reports.
Protiviti revealed in their recent annual Finance Trends Survey that 72% of CFOs and VPs of finance ranked cloud-based applications as a top priority to address over the next 12 months. Business Central is best implemented as a flexible cloud-based SaaS solution.
Discover how the capabilities of modern integrated Microsoft tools could transform the way you manage your financial operations hosted in the cloud.
---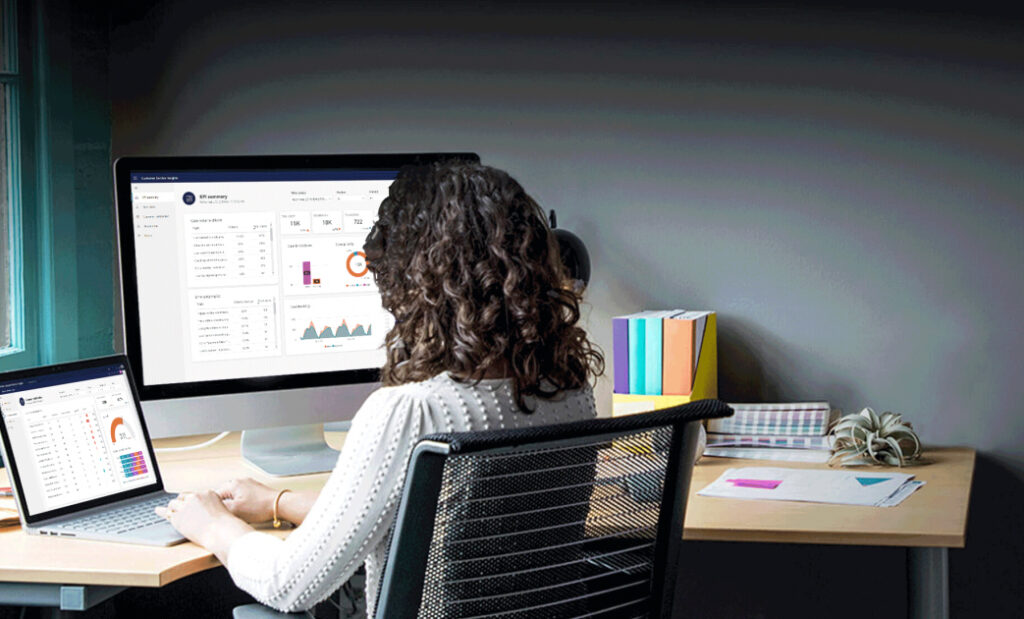 Improving financial management with Dynamics 365 Business Central
1. Process automation and increased productivity
Automation is a simple way to increase productivity in finance teams. With Business Central, you can reduce month-end and year-end closing times with connected general ledger, sales ledger, payables, and fixed assets data. You can also streamline approval workflows using Power Automate.
You can analyse financial performance quickly and accurately, while maintaining compliance. By automatically connecting and centralising data from across the organisation (e.g., from sales, finance, service, and operations) you can access a real-time, end-to-end view of your business. This provides you with the insights you need to make smarter decisions and create accurate financial reports. Less time is spent manually inputting data into multiple documents thanks to automation tools, increasing productivity and reducing the chance of human error.
2. Extend your financials with a myriad of integrations
The financial management module is at the core of Microsoft Dynamics 365 Business Central. By adopting this complete ERP solution, you can benefit from a business system that is built around solid financial foundations, making it easy to extend to other applications. Business Central is also inherently connected with Outlook and Teams. These integrated applications make it simple to share and interact with data and collaborate with your colleagues.
Connect Business Central with Excel and use analysis tools to evaluate your business data, update records in Excel and publish back to Business Central. With a wide range of third-party integrations built into the Business Central Financial Management module and many more accessible from an extensive network of ISV's, you can operate your business on your terms.
3. Consistency
Implementing a unified solution for business management enables you to benefit from a centralised system that unifies your people, processes and business intelligence across finance, sales, purchasing, operations and more. It's common in some businesses that different departments have their own financial data and documents, which often sees the same work duplicated. This can lead to human error, inaccuracies, and a lack of shared data across the business, causing issues at different levels. Financial Management in Dynamics 365 Business Central changes that, with a shared, single, easy-to-use platform resulting in consistent and accurate data.
With connected data across the entire business, you can chart financial performance in real time with built-in reporting and integrated Power BI dashboards. Modern tools and techniques such as Artificial Intelligence (AI) are a part of the standard system to help you make smarter business decision based on visibly clear complex data trends.
4. Better security
With Business Central SaaS, you're secure with Microsoft Azure. Ensure business continuity with a cloud solution that adapts to business models faster with flexible deployment, reliability, security, and an adaptable solution that grows with you. Accelerate financial closing, improve forecasting, and get real-time performance metrics while fostering compliance and security across subsidiaries.
5. Access from anywhere
The rapid shift to remote working has given a significant boost to cloud computing. With the correct security, internet connection, IT systems and business applications, data can be made accessible from any location. Utilising the cloud, the features and benefits of financial management in Dynamics 365 Business Central can be accessed by employees from anywhere. This enables faster and smarter decision making and drives operations to be more agile, enabling flexible working and more cost-effective staff structures.
---
Improve financial management with Dynamics 365 Business Central and the 848 Group
848 is a Microsoft Gold Partner with a team of experts in Dynamics 365 Business Central and the full finance functionality. We're here to help you streamline financial management and enhance strategy with a comprehensive business management solution.
Kate is a Marketing Executive researching and writing about emerging technologies and the cloud on a daily basis. She creates informative and educational content assets such as blog posts, articles and resources using strategic messaging to illustrate how a modern IT landscape can deliver real business value.