Why Workflow Automation Is Key In Modern Business
---
Modern businesses are always looking for new ways to enhance efficiency, reduce costs, and improve both the customer and employee experience. Workflow automation is a simple way to achieve all of these goals. Why waste time on manual tasks when you can automate them?
Workflow automation is the use of technology to complete monotonous and easily replicated tasks without direct human input.
Using rule-based logic, manual tasks can be automated, helping businesses achieve key business outcomes. Workflow automation software can help you streamline communication, save money, increase efficiency, and empower employees with accountability and the time to focus on what matters most.
In order for your business to get the most out of workflow automation, it is important to understand exactly what it is, how it works and the benefits it offers.
---
What is workflow automation and how can it benefit your organisation?
According to ServiceNow, workflow automation is defined as "The process of converting high-touch and largely manual business processes and workflows into faster and smoother low-touch digital workflows".
However, there is a common misconception that automation involves costly and invasive robotics and AI. When actually, it can be as simple as a set of tools within common business platforms such as Microsoft Dynamics 365 or Microsoft 365.
Workflow automation is the use of technology to improve and speed up everyday tasks and minimise the chances of any errors. We've all heard the phrase, "work smarter, not harder". Workflow automation is a simple method to optimise your IT services and processes to enable smarter working. This saves you time and money, enhances productivity and efficiency, and enables people to spend more time on meaningful work. In fact, according to recent research, automation typically enables businesses to achieve between 20% and 40% cost savings.
---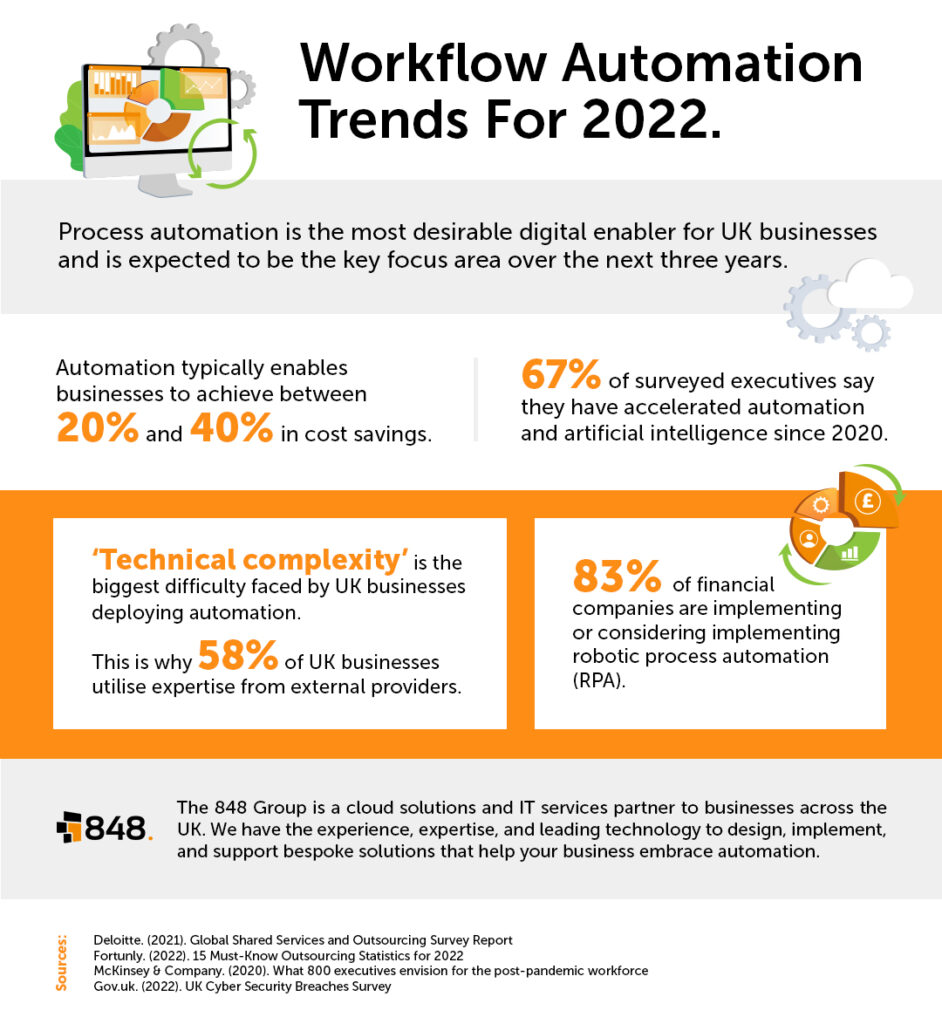 ---
When used correctly, automation software can provide value to your business in many ways
Cost savings – By streamlining monotonous, time-consuming tasks with automation software, tasks take up less of your time, money, and resources. Costly errors can be eliminated, and employees can complete tasks quickly and more efficiently.
Empowered employees – Workflow automation enables employees to manage their work more effectively and take accountability for anything that goes wrong. By automating common tasks, employees can devote more time to higher value assignments. Focusing on more meaningful or challenging work instead of monotonous tasks provides greater motivation and fulfilment.
Increased accountability – By automating your workflows, every part of the process can be assigned to different employees. This not only reduces the chances of something being missed, but it helps to get all of the work done. Any process weak spots or inefficiencies are also more easily recognised and addressed.
Improved efficiency and productivity – Automating processes saves time and allows resources to be diverted to more meaningful projects. This keeps businesses agile and optimises resource utilisation. Increased efficiency cost reduction translates to healthier profit margins.
---
What business processes can be automated?
As we've established, by automating repetitive business processes your teams can dedicate time to jobs that are more valuable and rewarding. However, more advanced forms of automation such as machine learning and artificial intelligence can now be used to complete more demanding tasks that require a bit more adaptability.
Here are some of the ways in which workflow automation is being utilised in businesses of today:
Customer service: Digital tools like chat bots and automated text message solutions are transforming customer service departments across all industries. Chat bots automate typical customer service interactions by answering common enquiries in an instant.
Marketing: Software platforms such as ClickDimensions, Dynamics 365, Hootsuite, and Hubspot, can be used to automate many marketing tasks such as social media posts, marketing lists, email campaigns, targeting and more.
Sales: According to recent research, McKinsey estimates that 1/3 of all sales tasks can be automated. No algorithm could negotiate a deal as effectively as a salesperson. However, automation can free up the time for human-centric interaction. For example, invoicing, booking meetings, and processing orders are just a few tasks that could be automated in Sales.
Human Resources: Given the repetitive nature of many HR tasks, digitalisation and automation can transform the efficiency of a department. By reducing mistakes caused by human error, it's possible to automate performance management. Tasks such as payroll, absenteeism and paid holidays can be all be automated freeing up time and resources in HR departments.
---
Machine Learning and Artificial Intelligence are the drivers of more sophisticated automation
Machine Learning and Artificial Intelligence (AI) are examples of types of automation. These technologies and other low code tools are helping businesses break down the barriers to automation, and find new ways to reduce costs, increase efficiency and add business value.
9 out of 10 leading businesses have ongoing investments in AI.
The focus on workflow automation in many businesses is all about automating the tasks and processes that humans don't want to do or need to do. But it should also be about realising potential opportunities, and some are already using automation in this way. Technology such as AI and machine learning can serve as a supplement or an enhancement to human decision making and enable new forms of 'smart' automation. Combine AI capabilities with improved data retention through the Internet of Things (IoT), and the possibilities are endless.
---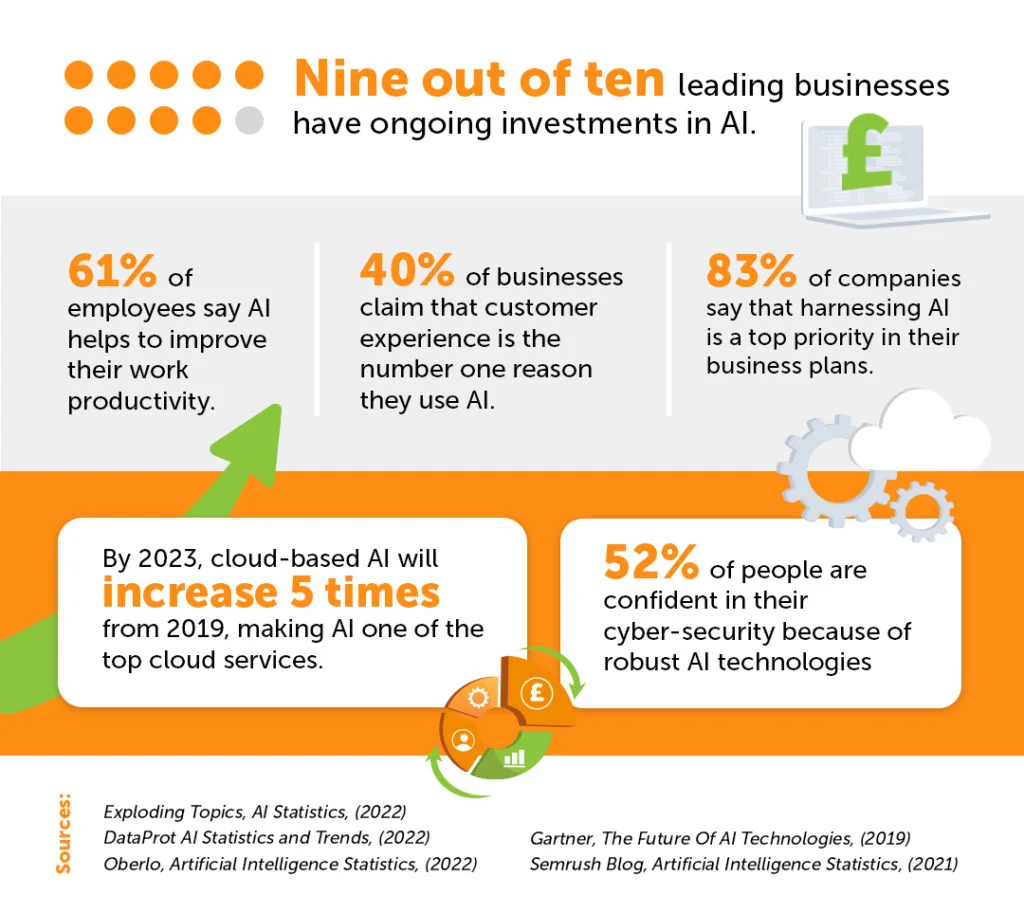 ---
Getting started with automation
Workflow automation solutions may seem challenging at first. Some businesses prefer to invest in building in-house solutions instead. However, this requires time, money, expertise, and resources. So, many companies tend to rely on third-party software providers or IT partners, whose effectiveness is already proven.
When you work with an IT partner to embrace automation:
It's easy to get set up: There is no need for an in house IT team to build, install, and keep the software you need to embrace automation up to date. Your IT partner will take care of these things and provide support and guidance along the way. They can also create and implement automated processes and workflows for you.
Ensuring that your IT solutions align with your business strategy is essential. With an IT partner you can take advantage of their specialist knowledge and experience to create a solution that adds maximum value.
IT professionals know their stuff when it comes to cyber security. Your IT partner will ensure that your workflow automation solution is built on a foundation of robust security so that you can work with the confidence that your data is protected from cyber criminals.
---
Workflow automation: The bottom line
It appears inevitable that we're heading towards a future of greater automation. Whether you're a small business or a large enterprise, in fashion or finance, hospitals or hospitality, one thing seems certain: if a manual process can be automated, why wouldn't you automate it? This reality isn't something people should be afraid of, automation is not the enemy. Instead, we should be embracing automation as an opportunity to educate people about leveraging technology to improve business processes and make their jobs easier.
It is also an opportunity for people to create their own incomes. Could automation be the key to establishing a more balanced society of entrepreneurs and small businesses?
---
Embrace a new model of working with an IT partner you can rely on
Businesses today are leveraging the power of automation to save money, boost productivity, and reduce errors, all while improving both the customer and employee experience. So don't get left behind. Eliminate tedious, time consuming tasks from your business and allow resources to be diverted to meaningful and rewarding projects.
The 848 Group is a Microsoft Gold Partner and IT solutions provider working with businesses across the UK. We have the experience, expertise, and leading technology to design, implement, and support a bespoke solution that helps your business improve automation, increase efficiency, and reduce costs using leading technology.
Work with an experienced IT partner that you can rely on, get in touch with 848 today.