---
New features in Teams are here! During its annual Ignite event, Microsoft shared new features and updates coming to Microsoft Teams. As the world's most popular collaboration platform, Teams took centre stage at Ignite as product leaders discussed rich new features and updates including, Mesh avatars, Microsoft Places, and Microsoft Teams Premium.
The latest updates have been designed to make working as a team easier, more flexible, and more inclusive. This blog post explores the new features in Teams that will be available very soon…
Microsoft Teams Premium
Built on the familiar Teams experience, Teams Premium is a new add-on that helps you customise the way you connect. With Teams Premium, you can make your meetings more personalised, intelligent, and secure. Whether you're connecting one-to-one for a virtual appointment or for a webinar, you can easily create meetings that fit every audience. Microsoft Teams Premium will be available in preview for all users from December, and will be generally available in February 2023.
Microsoft 365 and Office 365 license holders can start using basic virtual appointment capabilities today with Bookings. Teams Premium webinars include all the features of the Teams webinar functionality but with advanced functionality. This includes registration waitlists and manual approvals, automated reminder emails, a virtual green room for hosts and presenters, and new controls to manage what attendees see.
Teams Premium has all the features of Teams plus additional capabilities that help make your meetings more meaningful. If you have a Microsoft 365 license, you can access Teams Premium as an add-on license.
How are Teams meetings changing?
Mesh avatars for Teams
Another new feature in Teams is Mesh avatars. These will be available in the standard Teams meeting experience for private preview users. Mesh avatars allow you to mix up how you appear on Teams with an animated version of yourself.
You can customise up to three unique avatars choosing different physical characteristics, accessories, themes and more. Your Mesh avatar is audio-driven so you can use it in your Teams meetings and choose from a wide range of reactions to express yourself without turning your camera on.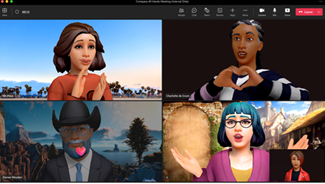 Excel Live
Rolling out this month, Excel Live is a new interactive feature in Teams that enables you to collaborate and edit an Excel file right from within a meeting itself. You don't even need to have Excel on your device; the shared meeting window becomes an interactive canvas for everyone to interact on. Participants can follow the presenter, interact, edit the workbook, and then sync back to the presenter — without ever leaving the meeting screen. Excel Live empowers teams to collaborate on spreadsheets in real-time within meetings so they can work more efficiently.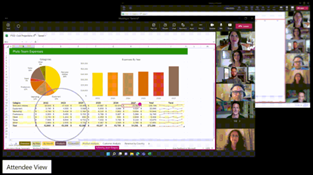 Cameo in PowerPoint Live
Now generally available in Microsoft Teams, Cameo is a new PowerPoint experience that seamlessly integrates your Teams camera feed into your presentation. You can customise where you want to appear on your slides, as well as offering design recommendations for optimal viewing. 'Speaker coach' uses AI to privately guide you on your pace when presenting, notify you if an attendee is attempting to speak, and remind you to check in with your audience.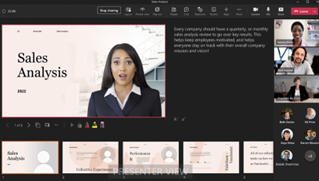 Host Polls in Teams
At Ignite, Microsoft showcased an array of new features in Teams to enrich meetings and the audience experience. The poll tool is a new feature to help improve engagement during group meetings. It can help speed up decision making and encourage interactivity. Choose a check-in or ice breaker poll to begin your meeting, or use choice polls to ask your participants to rank or vote on meeting topics.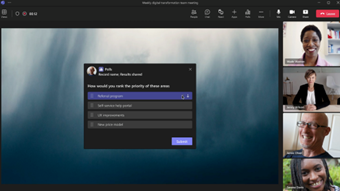 What's new in Teams Chats and Channels?
The new channel experience
Microsoft Teams channels have been redesigned to make it easier for you to focus and collaborate. The new layout has the most up to date posts at the top, so you can easily catch up on, contribute to and find discussions and information.
Microsoft has revealed a range of new post types to choose from. You will soon also be able to pin important posts for quick reference. Using the info pane, you can locate key information about the channel including channel members, shared files and more. Customise channel headers with your brand or add images that reflect your intent for the channel. This new channel experience will be available in private preview by the end of the year.
The latest Teams chat features
Teams chat is an essential part of the Teams experience. Microsoft has added new tools within the instant messaging element to improve and enhance the way users chat and communicate.
Expanded reactions – Express yourself with over 800 Teams emojis for every situation. You can also apply reactions to email messages in Outlook too.
Recommend people – Using AI, Teams will recommend new chats based on your previous activity and interactions.
Use @mention to add people to a group chat – Simply add new participants to your chat with an @ instead of manually adding people.
Mention @everyone – Grab your group's attention by tagging @everyone. All members will receive a notification so important or time-critical information isn't missed.
Delete chats – Organise your chats and remove conversations you no longer need without impacting other participant's view.
Work hours and location – Let your co-workers know which days you'll be in the office or working from home by setting your location next to your activity icon.
Schedule send – Similar to delaying the delivery of emails in Outlook, you can now manually select the future date and time you would like a chat message to be delivered.
Loop components in new places – Loop components are already available in Teams, but are also coming to Word for web, Whiteboard, and Outlook for Windows.
Microsoft Places
A new connected workspace, Microsoft Places bridges the gap between hybrid and in-person work. It's designed to help coordinate where and when work happens and provide insights about space utilisation and occupancy. Microsoft Places can show you when your colleagues are planning to go into the office, and which days have the most in-office attendance. This means you can maximise your in-person time and meetings more effectively.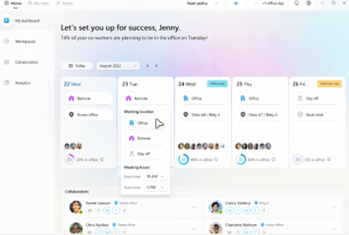 Teams meetings available natively
Another update in Teams is that meetings will be available natively across select Cisco meeting devices. This means you can configure Teams as the default meeting platform. To begin with, six of Cisco's most popular meeting devices and three peripherals will be certified for Teams meetings. In early 2023, the first wave of Cisco devices will be verified including the Cisco Board Pro, Cisco Room Bar, and the Cisco Room Kit Pro. The first peripheral is the Cisco Desk Camera 4K. This is an intelligent USB webcam and will be available by the of October. All Cisco devices will be manageable in the new Teams Rooms Pro Management Portal. Learn more about this update here.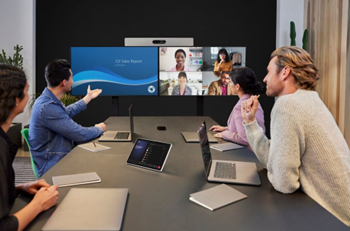 Let's Talk Teams
Want to know more about the new updates and features in Teams?
848 is an experienced Microsoft Solutions Partner with expertise across the full Microsoft ecosystem. We have a talented team of Microsoft Certified Specialists working across the UK.
Talk to us about what's new in Teams or other Microsoft products and services. We can help you unlock the new capabilities and build a centralised workplace where every employee can work, connect, and collaborate securely.
Get more out of your investments with support from an experienced Microsoft Solutions Partner.
Kate is a Marketing Executive researching and writing about emerging technologies and the cloud on a daily basis. She creates informative and educational content assets such as blog posts, articles and resources using strategic messaging to illustrate how a modern IT landscape can deliver real business value.