Windows 365: Microsoft Unveil New Cloud PC Category
---
Microsoft say Windows 365 will provide power, simplicity and security for hybrid work through the delivery of a full, personalised cloud PC experience to any device.
Microsoft has unveiled Windows 365, a new personalised computing experience designed to address the changing user demands and business challenges created by the rise of hybrid work.
Aimed at businesses of all sizes, from SMB to enterprise, Windows 365 is a Software-as-a-Service (SaaS) solution running in the cloud. Microsoft has explained it will create a new way to experience and deliver Windows 10 environments (and Windows 11 when available). Windows 365 places the OS in Azure, and streams the full Windows experience – including apps, data and settings – to both personal and business devices.
In the press release published by Microsoft on 14th July 2021, Satya Nadella, Microsoft Chairman and CEO said:
"With Windows 365, we're creating a new category: the Cloud PC. Just like applications were brought to the cloud with SaaS, we are now bringing the operating system to the cloud, providing organisations with greater flexibility and a secure way to empower their workforce to be more productive and connected, regardless of location."
---
Hybrid work has created the demand for secure cloud PC experiences
Hybrid working has changed the role of technology forever. As employees are no longer bound by location, organisations need solutions that enable users to work flexibly and productively, while tackling the increased security risks created by greater mobility.
By storing information in the cloud and not on the device, Windows 365 provides a secure and streamlined experience for end-users. It is also built on the principles of Zero Trust. This means businesses utilising Windows 365 can operate with peace of mind their end-users are protected by best-in-class security in Azure, whether they are working remotely or in the office.
---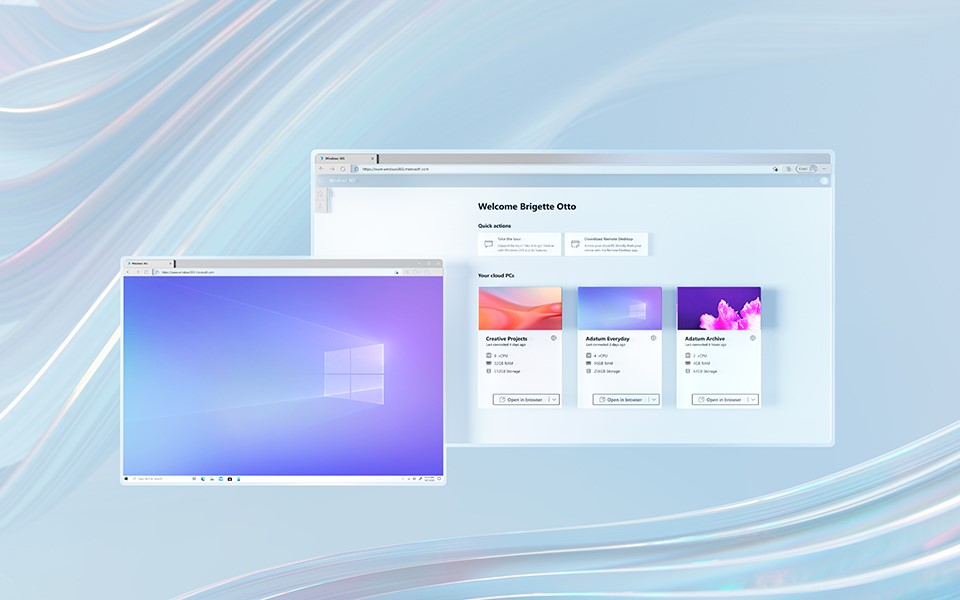 Power, simplicity and security are at the core of Windows 365
Windows 365 is built on the power of the Windows OS and agility of Azure, allowing organisations to operate with confidence in three ways:
Power: With instant connectivity, users can stream all tools, data, applications and settings from the cloud across any device. As it is an SaaS offering running in Azure, organisations can easily scale up or down, depending on their requirements. Businesses can choose which cloud PC option (Windows 10 or 11) works for them, and enjoy simple monthly per-user pricing.
Simple: By utilising the cloud, Windows 365 will allow users log in and pick back up where they left off across any device. It will also make deployment and management easier for IT teams without any advanced virtualisation experience.
Secure: Built on Azure and Zero Trust principles, Windows 365 is secure by design. All data, applications and other information is stored in the cloud, not on the device. Similar to other Microsoft offerings, ongoing security features and updates within the cloud PC will help maintain a secure environment backed by the latest threat protection.
---
How to roll out Windows 365
Windows 365 will be available in August this year. If you are interested in learning more about this new offering, or are looking at alternative options for hybrid working, please get in contact with the 848 team.
We're a valued Microsoft Gold Partner with 16 Gold Microsoft Competencies and Microsoft Certified staff specialising in the cloud. We're here to help your business as you navigate the changing way of working, with scalable and secure cloud-first solutions.