Zero Trust: Why You Should Never Trust And Always Verify
---
What is Zero Trust and why does it matter? The cybersecurity landscape has changed. Even as many people begin the transition of working back in the office, a future of hybrid working is inevitable. According to Microsoft's 2021 Work Trend Index, 73% of workers surveyed want flexible remote work options to continue, whilst 46% of the global workforce are planning to move where they can work remotely. Forrester also predicts the world will see a 300% increase in employees working remotely from pre-pandemic levels. Providing a wealth of benefits to both businesses and employees, remote and hybrid working practises also intensify security risks. Modern day businesses need to adopt security strategies that effectively adapt and evolve to the complexity of their technology ecosystems, and protect people, devices, apps, and data wherever they're located. One way that businesses can enable greater threat protection in the hybrid workplace is by adopting a Zero Trust strategy. This strategy is widely adopted by organisations across the globe, including Microsoft.
---
What is a Zero Trust strategy?
The theory behind Zero Trust is to automatically assume there are potential threats inside and outside of your business network.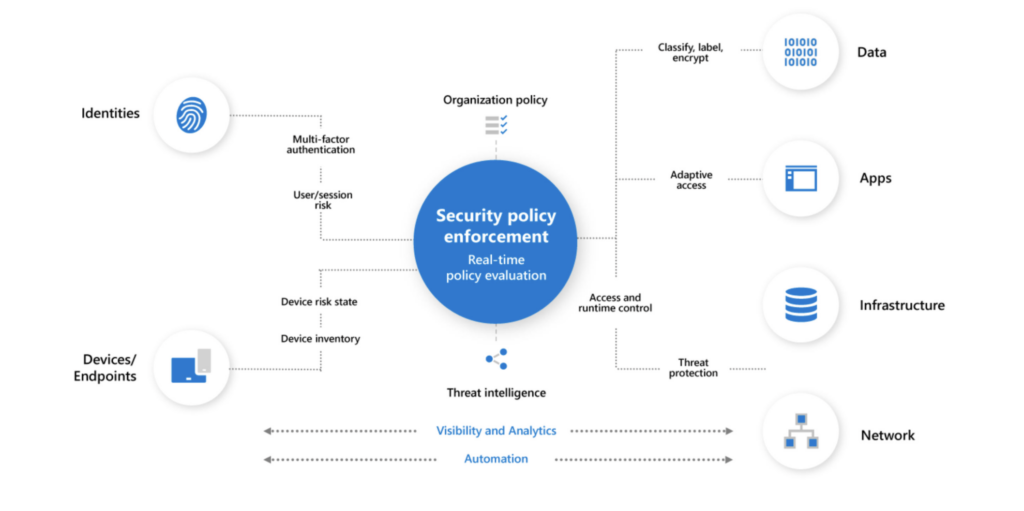 Zero Trust eliminates the inherent trust that is normally found within an organisations network architecture. Nothing is trusted by default, internally or externally. In order to trust, you must verify.
A Zero Trust approach ensures identities are validated and secure with multifactor authentication, devices are approved. This gives you visibility to all available data points, including user identity, location, service or workload, data classification and anomalies.
With Zero Trust, least privileged access is also enforced. This limits user access with just-in-time and just-enough-access (JIT/JESA), risk-based adaptive policies, and data protection. This helps to secure both your data and workforce productivity.
---
Want to know more about a Zero Trust approach?
As a certified Microsoft Gold Security Partner, 848 is certified to hold the expertise to effectively implement, manage and monitor security and compliance solutions for cloud and hybrid environments. We can help you build a secure and agile architecture, keeping your workforce and business safe in the new working world.