The Three Pillars of Cybersecurity: People, Process and Technology
It's often thought that cybersecurity is all about tech. However, that's just one piece of the puzzle. The strongest security strategies are built on the three pillars of cybersecurity: People, Process, and Technology. Each pillar is equally as important – and critical in keeping your business secure in a complex threat landscape.
Three is the Magic Number
In a time where cyberattacks are at an all-time high, security solutions aren't enough alone. In the modern business environment, hackers are sophisticated, and threats are complex. Your business is being targeted from all angles – and your security strategy needs to defend every base.
Even if you implement leading security technologies, they won't keep you safe if strategic processes aren't in place or you don't have the skills inhouse to manage them. Much like, robust processes and policies will do little to protect your business if user adoption and awareness is low. Failing to address even one of the three cybersecurity pillars will create security gaps and leave your business vulnerable to attacks.
An effective security organisation considers all three pillars with equal measure, creating a stable and balanced cybersecurity architecture to protect their business.
In no specific order, let's look a little closer at the three pillars of cybersecurity – People, Process, and Technology.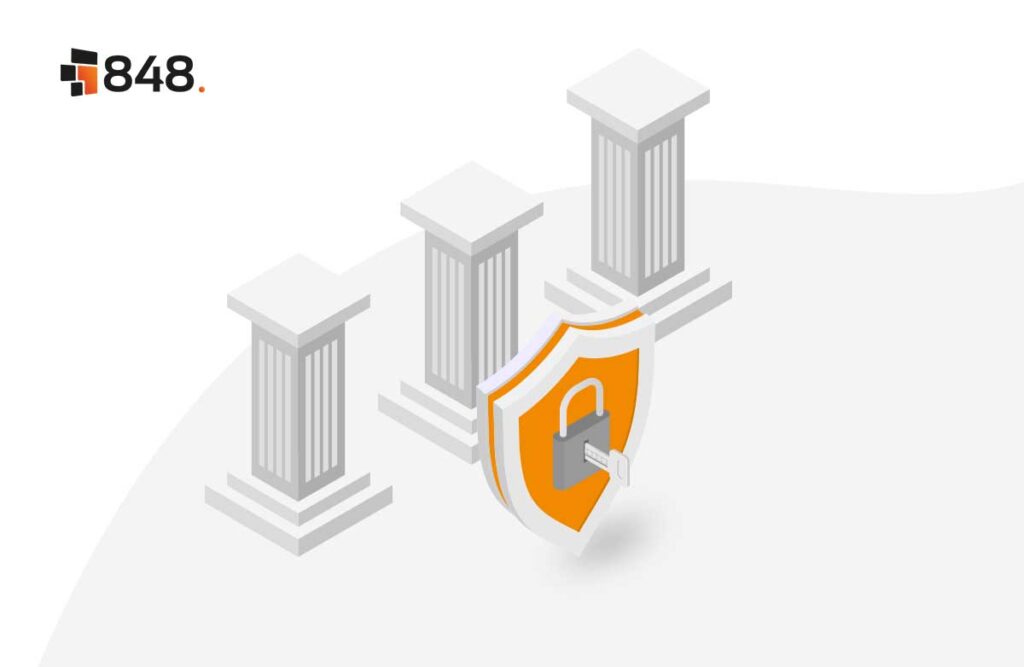 People
'People' is one of the core cybersecurity pillars with two core considerations. The People aspect is not just about having skilled security specialists and resources, but the vital part your end users play in keeping your business secure. As an overview, it includes:
Employee awareness, behaviours and training.
Specialist skills, experience and qualifications.
Appropriate staffing levels to manage and monitor environments.
Your people are your perimeter. They can be the difference between a secure infrastructure and attack. But human interaction or errors are the leading causes of breaches. Every employee from top to bottom should be aware of the role they play in identifying and preventing attacks. This includes ensuring they know how to handle data, spot phishing scams or social engineering attempts, and keep their devices secure.
Effective, ongoing security education and awareness training is the best way to improve user behaviour and security hygiene. Training must be clear and tailored to your organisation, with simple but effective steps for users to take. This includes providing clear guidance on creating strong and unique passwords, spotting suspicious links, and reporting unusual behaviour. Employee assessments can help gauge the effectiveness of the training, and continued follow-ups and updates can establish adoption, engagement levels and .
You also need to have access to people with the skills and expertise to lead and support better security practices. For example, having an IT team to manage, monitor, and update IT systems and environments, address security risks, and roll out effective management policies for things like identity and access.
Having a full and specialised cybersecurity team is not always achievable or practical, particularly for smaller businesses. That's why many organisations (both SMB and enterprise) utilise Managed Service Providers (MSP) to manage their IT security. This ensures your business can access the leading skills and knowledge they need at a far more affordable price point.
If you don't have the inhouse resources, an IT partner with a team of security specialists can design and deliver security policies, training, programmes and solutions that make it easier for you to reduce cyber risk in the workplace.
Process
'Process' is one of the three pillars of cybersecurity as process is the key to implementing an effective strategy and architecture. It considers the processes, frameworks and procedures in place to proactively prevent attacks and rapidly respond to incidents or threats. Process is essentially the how, when and why of security, and involves:
Effective management systems and policies.
IT governance, risk, and compliance.
Security audits and gap analysis.
Frameworks underpinned by leading security standards such as Cyber Essentials and ISO 27001.
Response and disaster recovery plans.
Technology won't protect your business without proper implementation and process. Effective security processes define the roles, activities, documentation, and systems in place to mitigate cyber risks. They outline who uses which tools and when to test and evaluate the defences surrounding different IT environments, and identify, categorise, and address security issues. This includes performing regular security exercises such as penetrating tests, vulnerability assessments and threat research. Process also encompasses the protocols end users should follow in their day-to-day activities to stay secure.
Processes should take into account both external and internal risks to the business, with appropriate frameworks for managing both external attacks and insider threats. You should also ensure you have processes that consider both proactive and reactive approaches, where proactive is preventing attacks from happening, and reactive is the response in the event of an incident.
As the cyber threat landscape changes so quickly, it's important processes can evolve at the same pace. And so, they should be continually assessed and reviewed to ensure they're able to meet emerging threat types and techniques.
Developing, implementing and managing effective security processes is necessary but complex and time-consuming. It's a full-time job requiring constant attention. You can simplify the task by outsourcing some or all of our process design and management to an MSP like the 848 Group. With managed IT security services and consultancy, you can remove the burden of cybersecurity from your internal teams and assure your business is protected from threats.
Technology
'Technology' is probably the most commonly addressed of the three cybersecurity pillars. There is an always-growing list of technologies available to protect your critical infrastructure, users and environments. What is important is that tech isn't used in isolation. Rather than deploying endless different solutions, IT security teams should use their knowledge to select the right combination of technology for their unique environment.
Solutions should be integrated and optimised to create a watertight security posture and avoid security gaps. They should address different elements of the threat ecosystem but work cohesively as a complete security fabric. Technology will include solutions and tools for:
Network, infrastructure and platform security.
Endpoint security, detection and response.
Application and software security.
Vulnerability scanning and monitoring.
Advanced threat protection.
Identify and access management.
Managed security solutions and services.
Data security and protection.
Cloud security.
As discussed previously, technology requires both the right process and skills to be effective in protecting your business. It's crucial to create an integrated security strategy that considers all three pillars of cybersecurity with the same importance to truly keep your workspaces and users secure.
At 848, we take a holistic approach to cybersecurity. We assess and test your security architecture to reveal human, technology, and process risks, and build fit-for-purpose strategies and solutions to resolve them.
Addressing the Three Pillars of Cybersecurity
Get in touch with a member of our team today to see how we can help you address all three pillars of cybersecurity. Protect your business from every angle. Close security gaps with a holistic approach built on people, processes and technology. We have a dedicated security practice and experienced team of complex security specialist to deploy and improve your security strategy, develop your IT landscape and improve your security skills.