The Benefits of Working at the 848 Group
---
The 848 Group employee benefits
848 is growing and growing. Interested in joining our team? Here's some of the benefits of working at the 848 Group
848 has grown significantly over the past 18 months. With more clients and bigger projects, we've been recruiting business changing people to join our team. As the business has continued to expand, we've grown from 30 people at the start of 2020, to now over 70 staff.
Our headcount growth is not just through welcoming new people to the team, but by maintaining an excellent employee retention rate. So why do people join, and why do people stay? From career opportunities to generous holidays, here are just some of the benefits of working at the 848 Group.
---
Learning and development
848 has always been committed to supporting staff in developing their careers. That's why we invest tens of thousands of pounds every year in employee learning and development.
We help staff gain new academic and professional qualifications so that they can thrive in their roles and grow, providing funding, time to learn, and mentoring support. In 2020 alone, we helped our staff gain more than 30 new qualifications.
"I started at 848 as a consultant in May 2021. The team I work with are the best at what they do in this industry and are always there when you need advice on anything. Before I joined 848, I had been hoping to achieve the Microsoft 365 Certified Enterprise Administrator Expert, but with a young family this was proving to be difficult. 848 has already helped me gain three new Microsoft certifications – and I'm just a couple of steps away from completing my Enterprise Administrator Expert Certification."


– James Wright, Consultant
---
Private healthcare
Our business is our people, and so safeguarding both the physical and mental health of our staff is paramount. We aim to create an open, honest and inclusive environment where employees feel safe and valued. We offer every employee private medical cover with Aviva, to ensure they have quick access to the healthcare and related support services they may need. This includes dental and optical cover.
---
Cycle to work scheme
Earlier this year we introduced a cycle to work scheme, which is a fantastic benefit that saves employees 25 – 39% on a bike and accessories. Nothing is paid upfront and the payments are taken tax efficiently from monthly salaries.
---
Flexible working and holidays
Cases of employee burnout have been rising across the UK due to the changing working landscape. We ensure staff are able to work to a schedule that works for them and their personal lives. Employees are given flexible holiday allowances to ensure they have the time they need to relax, refresh, and take a break from work.
---
Electric car chargers
We support employees in finding green alternatives to the usual commute, not just with our cycle to work scheme, but through providing financial support for electric car users. If employees choose to switch to an electric car, we cover the cost of the electric charger.
---
Project and career opportunities
We're proud to deliver large and complex projects to some of the most notable clients in the UK. This gives our staff the chance to work on exciting and noteworthy projects that interest them and advance their skills. Our teams work with businesses across all industries and sectors, and we ensure we always recognise their achievements.
I have been with 848 for 3 years as a Technical Project Manager. Within those 3 years I have had the opportunity to manage projects for a number of well-known organisations in a wide range of sectors from International Airports, Telecommunications, Regulator Authorities to world-wide courier services and many more. Working alongside these large organisations has given me the knowledge, skills and experience required to lead and deliver projects within enterprise-class IT environments.


– Ben Taylor, Project Manager
---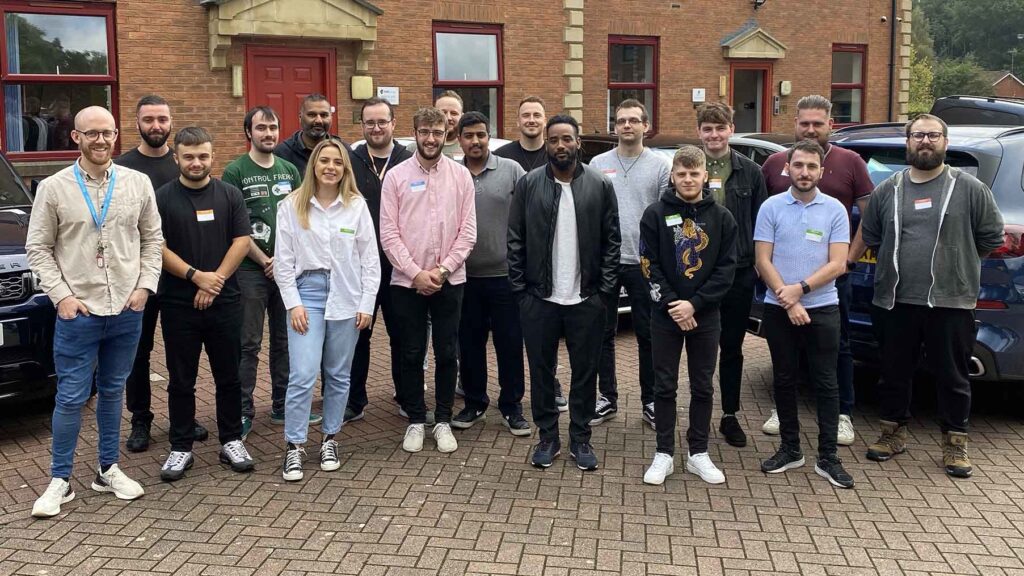 Reap the benefits of working at the 848 Group
Interested in joining a growing business that champions development and recognises success? We're looking for business changing people to become a part of the 848 team. As our services portfolio grows and our client needs evolve, we're creating new roles across the business. Get in touch to learn more about the career opportunities available.