SureStart for Regulators: Agile CRM Software for Regulators.
Accelerate your journey to a CRM solution underpinned by Microsoft Dynamics 365
Get a CRM solution purpose built for regulators and tailored to your needs, not manufactured for the masses. SureStart for Regulators will help you accelerate your journey to a cloud-first Microsoft Dynamics 365 solution that's right for you.
We're a certified Microsoft Gold Partner with 17 Microsoft competencies and a robust Plan, Build, Run methodology delivered by a team of Dynamics 365 cloud specialists. But it's not about who we are, it's what we know about meeting the business needs of regulators that matters most.
For too long, We have the knowledge and experience to deliver a range of tailored solutions, software and business applications that make a positive difference and add value to regulators.
848 is proud to have delivered cloud-first solutions to many regulatory authorities and professional membership organisations over the years. We have clients ranging from large, high-profile public sector bodies, to smaller independent regulators and organisations.
Accelerate your journey with SureStart for Regulators
For too long Regulators have been Poorly Served by the Software Industry.
Too much focus has been on providing solutions for professionals and not enough emphasis on providing support for regulators themselves.
Software projects are often heavily bespoke and often look to reinvent the wheel.
Planners and implementers lack an understanding of how to truly meet the needs of regulators.
The bending of membership software typically leads to inadequate solutions that underperform.
Budgets are shrinking; agile, out-of-the-box solutions are needed but often hard to find.
We provide Business Changing IT. With over a decade of experience and a robust methodology, we Plan, Build and Run intelligent IT solutions that maximise value for our customers.
With SureStart for Regulators, you get a High-Quality Dynamics 365 Platform Purpose Built for Your Organisation.
Gain real value.
Gain tangible business value which is measured early on, and where ROI is identified and understood to be a critical factor in your decision-making.
Built to work for you.
Accelerate your implementation by making the most of appropriate and commonly used functionality, which can be tailored easily to meet your unique requirements.
Cost effective.
Improve cost effectiveness. You only invest in what you really need, not something that everybody else wants.
See the results.
Benefit from digital transformation for regulators where results are proven through Business Changing IT.
Future ready.
Gain insights and validate your solution by envisaging what a future state means for your regulatory organisation.
Arrange your Complimentary SureStart for Regulators Digital Transformation Workshop.
This workshop offers regulators the opportunity to appreciate the impact and value provided by SureStart for Regulators. See how a SureStart solution underpinned by Microsoft Dynamics 365 will form the foundation for your digital transformation.
Our Dynamics 365 experts work closely with you throughout your workshop, to provide clear understanding of how you till benefit from the three-stage process. This includes Envisioning, Business Value Assessment and Solution Assessment.
The learnings and output of your workshop is provided to help you to prepare for change. We ensure you're able to easily quantify the real value and business impact delivered from the implementation of Microsoft Dynamics 365. Your workshop will also help you develop an actionable plan designed around your digital future vision and key business objectives.
SIGN UP FOR YOUR DIGITAL TRANSFORMATION WORKSHOP
Our Robust SureStart for Regulators Model.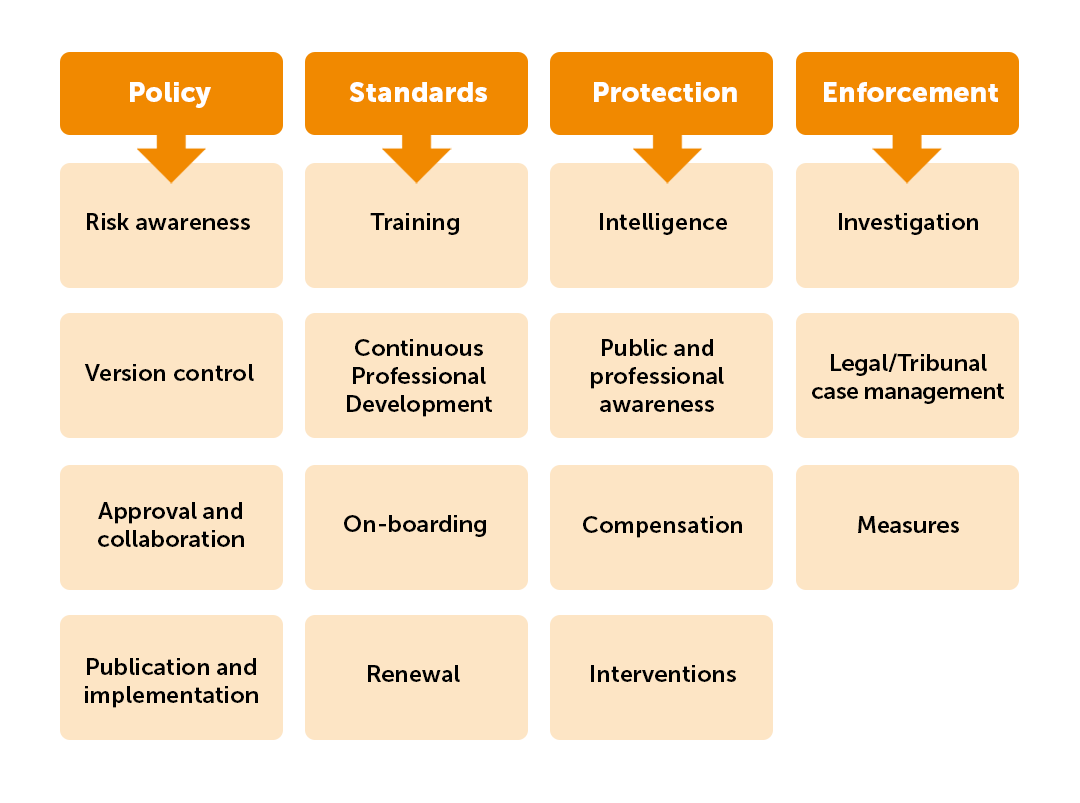 Regulators often have a common model at the heart of their service offerings
Policy, driven by risk and government strategy
Standards to ensure the right professionals and organisations are identified and contribute
Protection to ensure that the UK is safe and effective
Enforcement to punish, control and remove non-compliant people and organisations
Regulators are badly served by the software industry. The industry focuses on the regulated professions and not the regulators and agile out-of-the-box offers are needed. Planners and implementers are often different, or lack a common understanding, introducing costly knowledge transfer.
SureStart for Regulators is designed to ensure you get a Microsoft Dynamics 365 CRM solution that works for you. SureStart provides a safe and efficient way to get you up and running with a reliable and fully integrated business application that enhances your capabilities and connects your organisation.
Combining industry leading products and best-in-class platforms such as Dynamics 365, with 848's professional implementation services, SureStart enables you to roll out an effective, high-quality and feature-rich business application across your regulatory organisation.
Your Dedicated Microsoft Solutions Partner.
848 is a Microsoft Certified Solutions Partner for Modern Work, Azure Infrastructure, Digital & App Innovation, Business Applications and Security, with 6 Microsoft Specializations. This demonstrates our leading knowledge and expertise in the design, build and implementation of solutions underpinned by Microsoft technologies.