Everything Begins with Identity.
Secure and verify every identity across hybrid and multi-cloud environments.
We put Identity at the heart of your environment. No matter what industry, use case, or level of support you need, we have the expertise and solutions to help.
At 848, we understand that in today's digital age, Identity and Access Management (IAM) is not just about ensuring security; it's about enabling businesses to thrive with cloud-first IT.
As a leading cloud-first IT partner, we offer comprehensive IAM and Privileged Access Management (PAM) solutions that empower your organisation to achieve real business change while enhancing agility, efficiency, and security.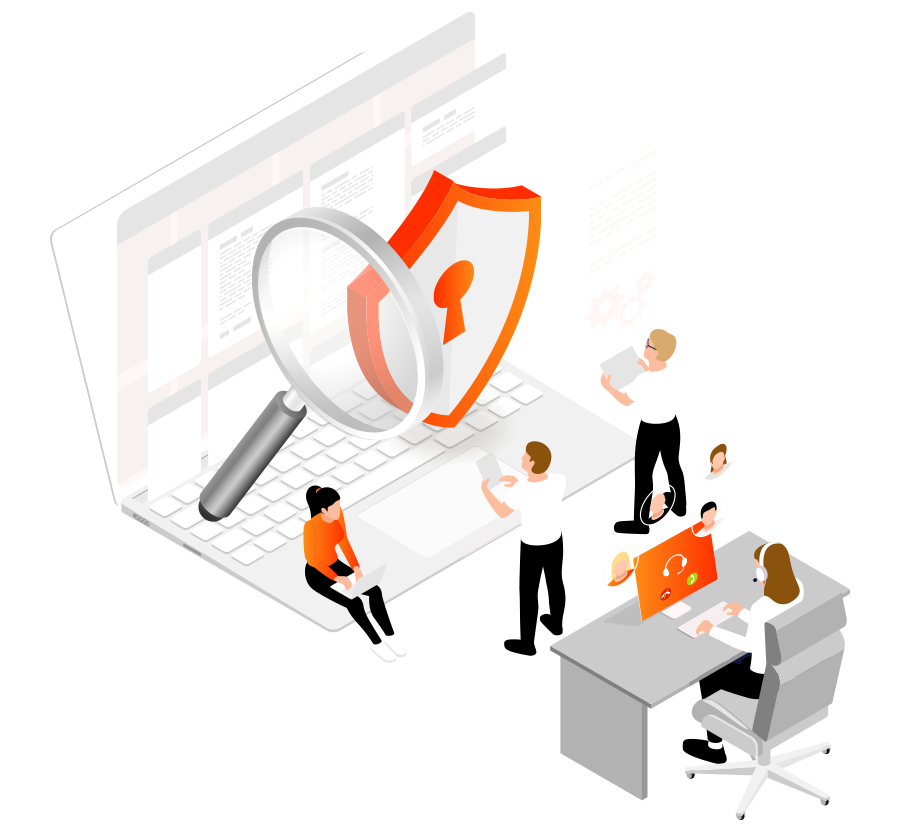 Meeting Your Unique Needs.
Solutions to fit your specific industry, compliance regulations, and technology stack.
Personalised approach – we understand that each business is different and identity management requirements vary.
Our Proven Track Record.
Provided end-to-end threat protection for global household names across all industries.
Chosen key collaborator of Deloitte.
Helped organisations of all sizes achieve security frameworks such as Cyber Essentials Plus and ISO 270001.
Identity is at the centre of all our digital transformations.
IT Change and Business Change go Hand in Hand – Achieve Both.
We don't just implement your solutions and leave you to it. We are committed to driving a holistic approach that aligns IT change and business change to achieve transformative results that propel your business forward.
Our comprehensive change management strategies encompass not only technical aspects but also focus on engaging stakeholders and fostering a culture of continuous improvement.
Zero Trust – ensuring the right people have the right access at the right time.
Through a proactive Zero Trust approach, we deploy the principle of granting access privileges only to verified users at the right time for the appropriate resources.
Establish a strong security foundation, instil confidence in users and enable your business to thrive in the ever-evolving technological landscape.
Identity Access Management (IAM).
We offer a wide range of identity management solutions designed to address the unique challenges your business faces.
From global enterprise organisations to SMBs, we can assess, design, and implement IAM in every business.
Identity
Single Sign-On (SSO): Simplify user access across apps and services.
Multi-Factor Authentication (MFA): Ensure only authorised users can access critical resources and data. (FIDO)
Verified ID: Enhanced identity verification for legitimate user access.
Access
Privileged Access Management (PAM): Secure critical administrative accounts and minimise the risk of data breaches.
Role-Based Access Control (RBAC): Efficiently manage user privileges.
Conditional Access: Real-time access restrictions based on contextual factors.
Management
JIT Management (Just-in-Time): Temporary elevated privileges for limited periods.
Mergers and Acquisitions (M&A) Identity Integration: Smooth consolidation of acquired entities' identities.
Identity Data Hygiene: Keep your identity data clean, accurate, and up to date.
Your security is our top priority. Our identity management solutions provide multi-factor authentication, secure password policies, encryption, role-based access control (RBAC), centralised identity management, identity governance and administration (IGA), audit and monitoring, secure APIs, secure configuration management, disaster recovery, and regular security assessments. We ensure compliance with GDPR, CCPA, HIPAA, ISO/IEC 27001, and other relevant data protection standards.
Seamless Integration and Scalability.
We understand that scalability is crucial for growing businesses. Our cloud-based approach allows us to seamlessly integrate our solutions with your existing enterprise applications, third-party productivity tools, and line-of-business applications. As your organisation expands, our identity management solutions will effortlessly accommodate the growing number of users and resources without compromising security or performance.
Customer Success Stories.
Incentive FM Group achieved ISO 27001 information security certification with our security uplift, enhancing compliance and security while winning new opportunities. A leading nuclear and electrical engineering firm received expert technical capabilities and a flexible IT architecture underpinned by leading security services, courtesy of our integrated infrastructure and modern workplace solutions.
Over the last 18 months, the 848 Group has successfully resolved 6 high-profile UK cyber security incidents that impacted global household names across multiple industries. Our expertise spans the entire lifecycle of cyber threats. From proactive preventative measures to mitigate risks, to quick and effective post-incident recovery.
Speak to our Specialists.