---
The pain of passwords in a digital world
Imagine a password-less future. Keeping track of an ever-growing number of passwords can be a pain. In both work and home lives, people have more and more passwords to remember with most online services requiring them. Many of us will have accounts for multiple social media platforms, email addresses and commerce sites. We shop, bank, work, read and stay in touch online.
Almost every account requires a password, and with so many accounts, it can be easy to lose track. According to research, the average person forgets their password 36 times a year. However, cyber security experts recommend having a unique password for every account you own to increase your level of protection from hackers.
We're living in a world where people depend even more on the internet and technology for everything in our lives. We also rely on convenience and instant access, forgetting passwords or trying to remember knowledge-based authentication is not only a headache for users, but it also delays access.
Biometrics such as fingerprint and face ID, and multi-factor authentication (MFA) have become increasingly popular as passwords are an inconvenience and a prime target for hackers and cyber-attacks. Although many of us use MFA in our everyday lives, research has found that less than 40% of people use it for work accounts.
---
Poor passwords and the impact of cyberattacks on business
A successful cyberattack can cost you thousands of pounds – or even your entire business. On average, one in every 250 corporate accounts is compromised each month. Poorly protected accounts and uncomplicated passwords are an easy way for hackers to gain access.
The World Economic Forum (WEF) estimates that the cost of cybercrime on the global economy is £2.1 million every minute, with around 80% of attacks targeted at passwords. Gartner estimates that almost 50% of all helpdesk requests are related to passwords such as employee password resets. This eats into the valuable time of helpdesk staff and reduces workforce productivity as employees have to wait to access the platforms they need. Being able to log in quickly is essential in order to respond to customers fast and maintain customer satisfaction.
---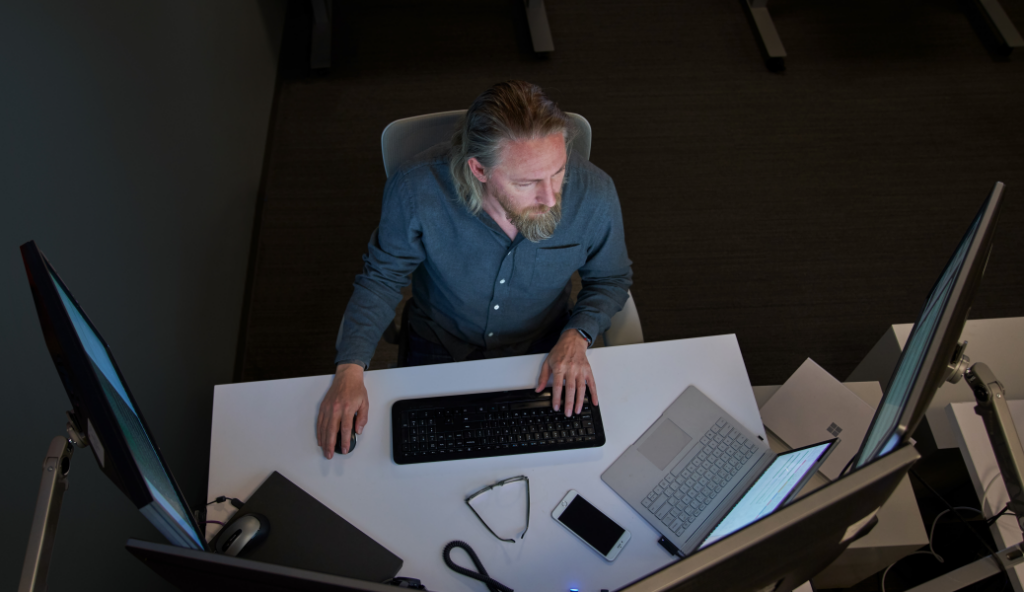 Security is at the core of Microsoft's password-less future 
The password-less future is here and it's inherently secure. Earlier this year Microsoft announced that users can access and protect their Microsoft accounts without a password. You can now use authentication apps such as Microsoft Authenticator or Windows Hello to securely access your account. Other password-less options include a security key or verification code sent to your email or mobile device to unlock your account. Microsoft has activated password-less settings for all of its applications including Microsoft Outlook, OneDrive and more.
Microsoft's password-less ambition is a major milestone for the cloud provider. Microsoft has been working towards a password-less future for years and the 'remote work revolution' has only accelerated the drive to achieve it. Businesses are increasingly transforming their digital landscape and operating from the cloud. Hackers are becoming more sophisticated too. So, maintaining the security has been a priority for Microsoft over this past year.
---
Adopt a password-less future for your business with help from the 848 Group
If you're unsure whether your business is operating securely or require further information on cloud security, passwords, and MFA, then contact 848 today.
848 is a trusted Microsoft Gold Partner with over a decade of experience in cyber security and cloud-first solutions. Our team of experts will give you a clear understanding of your level of defence, and provide you with expert guidance to better protect your business. We help you build a stronger security posture so you can operate your business with the confidence that your data is secure.
Kate is a Marketing Executive researching and writing about emerging technologies and the cloud on a daily basis. She creates informative and educational content assets such as blog posts, articles and resources using strategic messaging to illustrate how a modern IT landscape can deliver real business value.