Here's Why CRM and ERP Integration is Important
---
CRM and ERP systems are both essential business management solutions. However, they both have very distinct characteristics and use cases.
The function of a CRM platform is to bring all customer interactions and data into one centralised location. It enables effective management and monitoring of customer relationships and journeys. Whereas the purpose of an ERP system is to manage certain facets of a company. This typically incudes areas such as their finance, operations, and supply chain.
Although these tools have different uses, using these them as stand-alone systems can in some ways act as a limiting factor towards your business growth. A disconnect between your CRM and ERP platforms can contribute to inefficiencies and missed business opportunities.
Effective CRM and ERP integration can help businesses become more efficient, while simultaneously allowing you to unlock a wealth of benefits.
In this article, I'll discuss the key benefits of CRM and ERP integration. But before we dive into that, lets delve into what CRM and ERP mean.
---
What is CRM?
CRM stands for a Customer Relationship Management. A CRM system is a type of software the enables the ability to organise and manage all prospect and customer interactions, data, and related information. It helps you nurture, maintain, and grow effective customer relationships. Microsoft Dynamics 365 offers one of the leading CRM systems.
The goal of a CRM solution is to improve a business's relationships with its customers through retention and acquisition. CRM solutions are great because they help business manage and organise all their leads based on what stage they are within the business's sales pipeline. They also help you keep track of existing relationships.
---
What is an ERP System?
ERP is an acronym for Enterprise Resource Planning. An ERP system enables businesses to run and oversee critical business processes from one place. It usually integrates facets like accounting and finance, supply chain management, project management and HR.
ERP systems are important to businesses because they can act as the central nervous system of a business's operations. It does so by giving business owners an easy way to access, update, and act on data that paints a clear picture of how the business is performing. In addition to this, ERP solutions can also give businesses the ability to automate certain business processes, enhancing efficiency.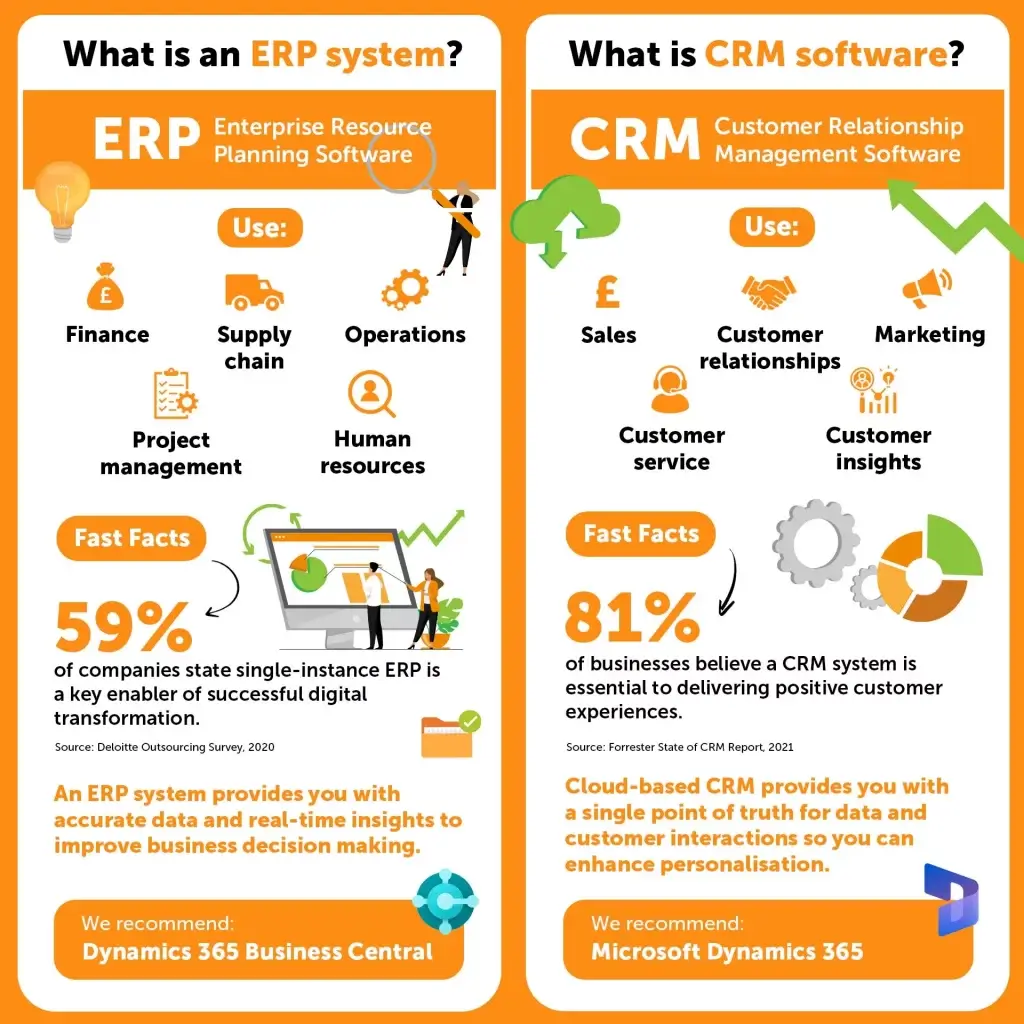 ---
How does CRM and ERP integration work?
Now we've discussed briefly what CRM and ERP systems are, let's talk about how CRM and ERP integration works. Effective CRM and ERP integration ensures the two systems are properly connected so that data can be shared and accessed across the two systems. Here's a practical way that this integration could work within a business:
A customer orders one of your products. You would be able to select the order from a list within your CRM and then seamlessly add that order to the order pool using your ERP system. The invoice can be sent over to the customer from finance. As you can see, facilitating this automated collaboration between these two tools is just one way it can help your business become more efficient.
---
Benefits of CRM and ERP integration
There are so many benefits of CRM and ERP integration. Let's look a some of the key benefits for your business.
1. Better efficiency
Traditionally, businesses would have their employees combine and export important customer data into spreadsheets. As you can imagine, having to manually organise data can be a long and tedious task for any employee. Furthermore, working like this can result in unnecessary human errors. CRM and ERP integration helps automate manual tasks and provide all employees with a centralised, single source of truth for all data, processes and operations.
CRM and ERP integration will allow your employees to access, process and combine this data from one secure location. This can enable your employees to locate accurate information easily and in a timely manner. This operational change can enable your business to be more efficient than ever before.
2. Lower IT costs
Relying on one system for managing all critical business data as opposed to utilising a range of disparate and disconnected tools can enable your business to save a significant amount of money. Choosing a unified platform means less vendors and solutions to manage and procure and is often far more cost-effective.
With an integrated CRM and ERP platform solution, you need fewer staff to operate, maintain and support your systems. A unified cloud platform for CRM and ERP is accessible via any device and location on an affordable subscription basis. Enjoy one monthly package for a complete business management platform.
3. Encourages employee collaboration
CRM and ERP integration can encourage departments within your business to communicate better, increasing transparency and teamwork across your organisation. This can be especially beneficial if the departments within your businesses typically work in silos. A unified approach to CRM and ERP removes information and communication gaps, enhancing cross-team collaboration.
Here's a scenario that Illustrates this:
Business A's marketing department that is in need for more budget to boost their marketing efforts. However, the finance department of 'Business A' sees this as unnecessary spending and is unwilling to accept this request.
A classic example of a CRM and ERP integration that can help this business is them implementing Dynamics 365 CRM and Business Central into their business together with PowerBI. Doing so will enable them to gain access to a feature called 'marketing campaign insights.'
This feature could be extremely useful to this business because it will allow both the marketing and finance departments to analyse the same data – rather than only looking at the data that pertains to their individual department. As a result of this, they may be able to collaborate with each other easier and find mutually beneficial solutions.
4. Better data accuracy
Did you know, businesses lose as much as 20% of their revenue due to poor quality data? This shows just how important it is for businesses to have good, consistent, and high-quality data.
CRM and ERP integration can help your business improve your data consistency and act a single point of truth for data in your business. If your employees are still doing things like copying and pasting data or e-mailing data insights to each other, then it's easy for them to make mistakes. However, with CRM and ERP integration your data can just seamlessly flow from one tool to the next. This means teams no longer have to worry about triple-checking all data that comes their way.
5. Improved inventory management
You probably already know this, but having items out of stock creates a very poor customer experience. So much so, that one survey found that 30% of customers feel like items being out of stock hurt their shopping experience.
In addition to this, 37% of customers that experience stock issues will go and shop with another brand.
By know you're probably wondering "But what does this have to do with CRM and ERP integration?"
Well, the answer is simple, if everyone in your business isn't aware of your current inventory levels, it can have a negative impact on your customer experiences.
Suppose that you own a furniture business, and your marketing team is running a 'half price' marketing campaign for your 'Oak coffee tables'. But they aren't aware that the oak coffee tables that they're promoting are out of stock.
If a customer interacts with the campaign and comes into your store wanting to buy the table, only to be told that it's out of stock, this will disappoint them. It could lead to you and your business losing a lifelong customer all because of a simple error.
This is where a CRM and ERP integration can help your business. As if the marketing team can see the stock information from the ERP in the CRM, then they can avoid promoting this product and disappointing a customer.
Connect your business
Now you're aware of all the incredible benefits that your business is missing out without CRM and ERP integration, my next question to you is:
Would you like your business to experience these benefits?
If you do, don't worry about the "how"- that's our job
848 is a trusted provider of cloud-connected ERP and CRM systems that enable real business change. With a dedicated business applications practice, we can plan, build, and run integrated and unified solutions that are bespoke to your business.
Get in touch with a member of our team today to learn more.
---
Thulani is a digital executive and technical writer. He researches new and emerging IT solutions and constructs relevant content that is both informative and easy to digest. Thulani writes articles that provides clear insights for business users.