Business Process Flows Using GPT-4 & Microsoft Visio
Creating a business process flow is like constructing a house, with early stages being slow and difficult as you lay the foundation. Once this groundwork is done, you can speed up and focus on refining. If you can expedite this initial phase, it's akin to having a pre-built foundation, which accelerates the whole process, and you can concentrate on doing what you do best. Here, we look at exactly how to do that!
The Lead to Order process shown in the images below, is one example.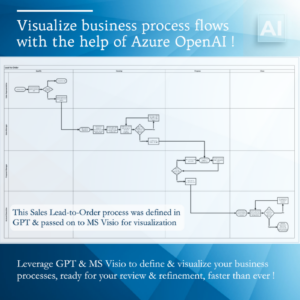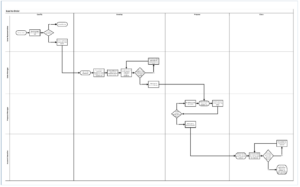 This transformation process kicked off with feeding some business requirements into Azure OpenAI GPT-4. (For this example, I used another instance of GPT-4 to generate some business requirements for me).
The set of instructions crafted for this transformation then picked up these business requirements, elaborated on it, and converted it into a cross-functional flow.
This output was then fed to Microsoft Visio for visualisation.
Excluding the one-time effort of crafting the transformation instructions, the full process essentially takes a few minutes to produce a visualised business process draft. Maybe even have GPT document it for you?
Here's another example: this is a car lease process.

*Important: Always remember, this is a kick-starter, never the final product. Now, pick this up, use GPT and your own skill-sets to analyse it, optimise it, and finalise it.
…how much do you think you can speed up your work with this?
Talk to us about Business Applications and AI Integration
The 848 Group is a Tier 1 Microsoft Solutions Partner with a dedicated business applications practice and deep technical knowledge and experiences spanning a range of technologies.
We can help you transform both the customer and agent experience with AI and ML and see your revenue and satisfaction increase.
Get in touch with us by calling 03449 848 848 or emailing us at [email protected].