Firewalls: Your First Line of Defence
---
As your business becomes more digital, security becomes more critical. Firewalls are your network's first line of defence against malicious cyberattacks.
In many businesses, IT teams are faced with the challenge of securing user devices and workspaces in hybrid and remote environments. Firewalls are the best defence against security threats when your workforce is distributed across different locations. However, firewalls do require constant maintenance, management, and updating. Therefore, many businesses tend to outsource their firewall services to a security-focused Managed Service Provider (MSP).
This blog explores what a firewall is and why it is important to every business. It also reveals why so many businesses choose to outsource managed firewall services as opposed to managing them inhouse.
---
What is a Firewall?
Firewalls can be hardware, software, or a combination of both. They're your first layer of defence in cyber security. A firewall sits between your network and the internet, controlling the flow of data both in and out of the network to protect it from threats and prevent a security breach.
A firewall's job is to stop malicious software and unauthorised users from accessing your network and data. Firewalls monitor incoming and outgoing traffic. If a connection outside of your network attempts to gain access, the firewall decides whether to allow or block it based upon a defined set of security rules. For businesses operating on a remote or hybrid basis, where users need to securely connect to the company network from different locations and devices, a firewall is fundamental for data protection.
---
Every business needs a firewall
Cyber criminals are continually evolving their strategies, finding new and more sophisticated methods to access business data. So, when it comes to protecting your critical data, vigilance is essential. A common misconception about firewalls is that they are only necessary for large enterprises or businesses who deal with sensitive information such as legal firms or finance companies. However, in reality, every business that has a network should have a firewall – regardless of size or industry.
According to the latest UK Cyber Security Report, almost three quarters of cyberattacks that occurred in UK organisations last year were reported by small to medium-sized businesses. The proportion of cyberattacks against UK organisations has remained the same high-level as in 2021. These findings demonstrate that the risk, impact, and cost of a cyberattack is at an all-time high. Therefore, every business should have a firewall as a core element in their cyber security strategy.
Cloud-based businesses also need a firewall
A mistake many business owners make is overlooking firewalls under the belief that cloud computing eliminates the need for one. This is because they believe data is protected by the cloud hosting provider. This is true, and the data stored and used in the cloud does have added protection. However, the array of devices your teams use to access your cloud environments do not. This is where the firewall earns its place as your first line of defence.
On the other hand, implementing, maintaining, and managing firewalls can be a challenging and time-consuming task. A firewall is only as good as its rules and most recent updates. Therefore, a firewall is not a 'set it and forget it' security system. Firewalls require constant maintenance and monitoring to ensure that they can detect new and complex cyber threats.
A lack of resources, time, and knowledge are the biggest factors in a business failing to follow the correct firewall protocols. As a result, many businesses have turned to outsourcing firewall services in order to get the best level of protection.
---
Why are 83% of businesses outsourcing firewall services?
The huge growth in malicious hacking, combined with threats of cyber terrorism has led many organisations to review their cyber security approach. However, as the field of cyber security has evolved significantly in the last few years, establishing and maintaining security best practices and policies can be time-consuming, if not overwhelming.
Furthermore, in recent years, 89% of businesses have accelerated their digital transformation journey. As a result, internal IT teams are stretched thinner than ever before, trying to implement secure and collaborative hybrid working environments whilst juggling their daily tasks and strategic projects. Because of these factors, 83% of businesses are considering outsourcing their security efforts to a Managed Service Provider (MSP).
---
What are the benefits of Managed Firewall Services from an MSP?
Managed firewall services provide around the clock threat protection for your network. Managed firewall services help you build a secure and reliable network, and remove the worry and burden of network security from your already stretched IT departments. From management and maintenance to alerting, updates, and support, managed firewall services provide the power and flexibility you need to remain one step ahead of threats.
Managed firewall services are designed, configured, implemented, and supported by an MSP. An MSP is an external, third-party IT and cyber security solutions provider. MSP's remotely manage your IT and network infrastructure and end user systems, providing bespoke products, solutions, and services to meet your unique needs.
The key benefits of managed services include:
24/7 proactive network monitoring.
Expert support from cyber security professionals.
The installation, maintenance, and management of your firewall is taken care of.
All hardware and software components are kept up to date.
Managed services are often tailored to meet unique customer needs.
Provides advanced threat protection across locations and devices.
---
Get Managed Firewall Services from a partner you can trust
The 848 Group is an MSP and IT partner to hundreds of businesses across the UK. We're partnered with leading cyber security providers such as Cisco and Fortinet, and we take cyber security seriously. 848 has a dedicated team of cyber security experts with the knowledge, skills, and experience to help you build a stronger security posture.
When it comes to cyber security it's not a 'one size fits all' service. We have a range of firewall services to meet your unique business requirements. Our team take the time to understand your business, and design, implement, and support a solution that provides your business with maximum threat protection.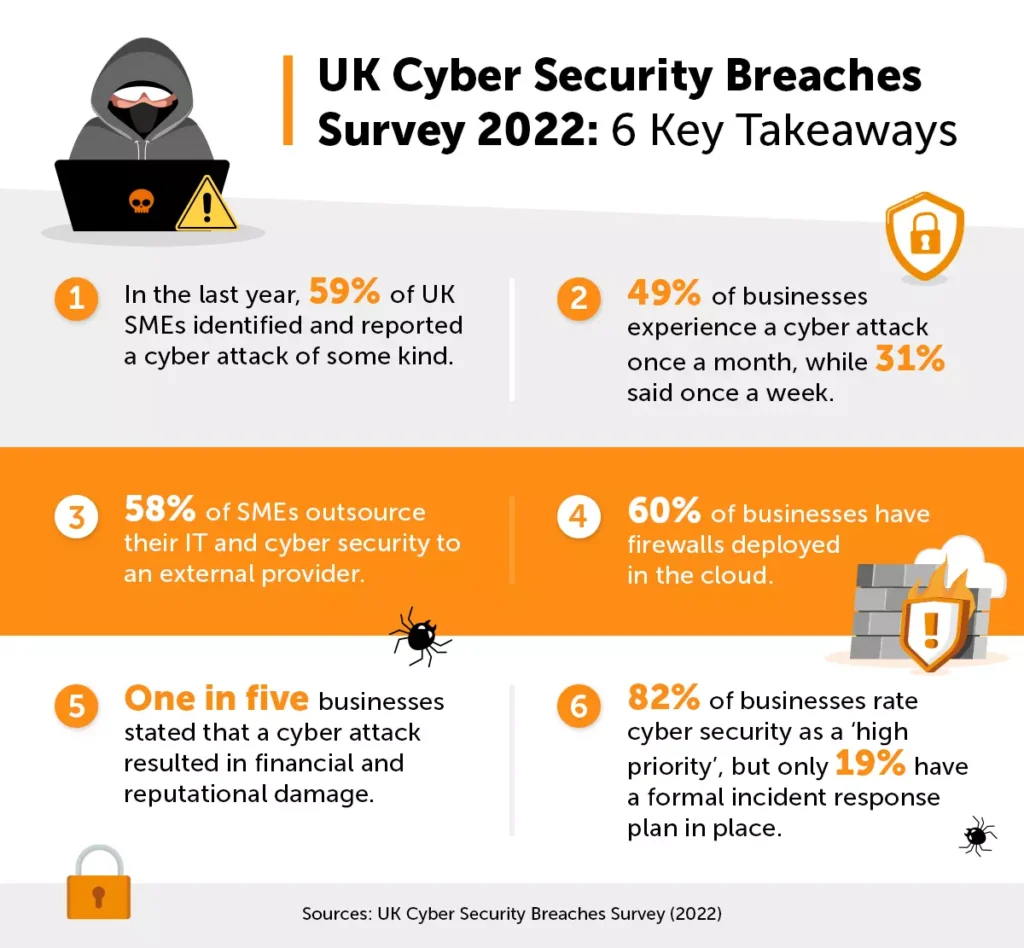 ---