Amazon Web Services (AWS).
Build your business and scale with ease on the world's leading cloud platform.
Amazon Web Services (AWS) is the world's leading cloud computing platform. Offering over 200 services from data centres across the globe, AWS provides highly reliable, scalable, and low-cost cloud infrastructure, empowering businesses to drive innovation, increase agility, and reduce IT costs. Easily move your applications to the cloud, secure your workspaces, and build nearly anything you can imagine with AWS.
AWS offers a huge set of cloud services and technologies, including storage, analytics, networking, IoT, security, artificial intelligence and more. With an extensive range of use cases and low variable costs that scale with your business, you can easily access the building blocks you need to create your cloud or hybrid cloud working environment.
The 848 Group is an AWS Registered Partner specialising in the cloud. We have over a decade of experience in delivering flexible, scalable and secure cloud-first solutions to businesses across the UK. Whether you want to migrate your entire infrastructure to cloud, or are after a bespoke hybrid cloud environment – we will deliver a solution that aligns to your business strategy.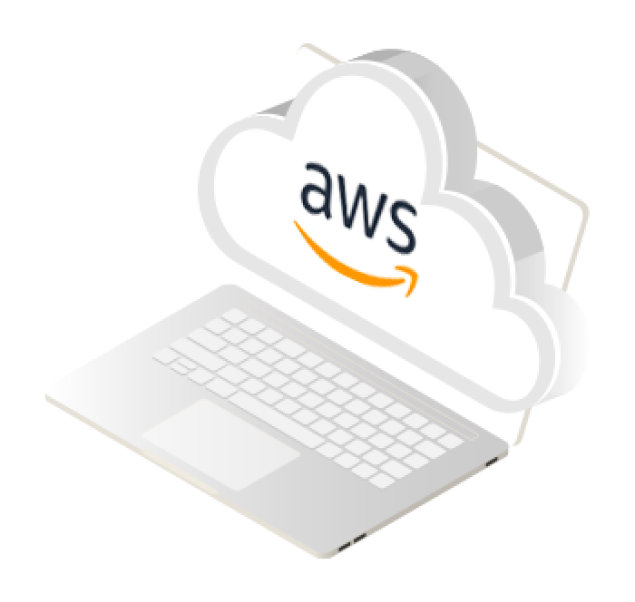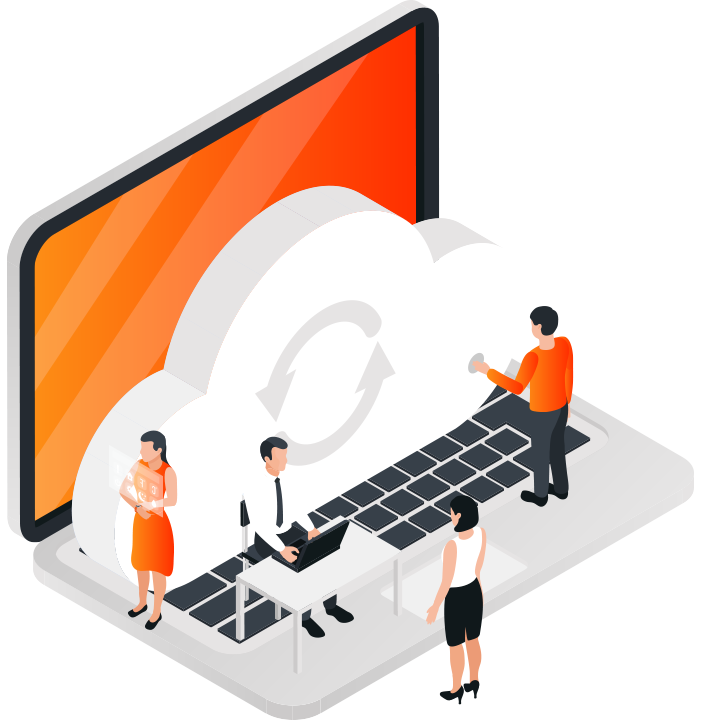 Build a Scalable and Secure Hybrid Working Environment.
Amazon Web Services gives you the ability to run your entire business securely in the cloud. Whether you're operating remotely, in-office, or on a hybrid basis, AWS moves with you. Designed for anywhere working, AWS has the integrated apps and digital tools you need to easily manage virtual workspace regardless of what devices users are using, or where they're located.
Migrate your data, applications, and workspaces to the AWS cloud, and build a scalable hybrid working environment where your teams can securely collaborate and communicate from anywhere.
Join the 94% of organisations utilising the cloud to achieve effective hybrid work. Unlock a multitude of benefits that come with cloud computing services underpinned by AWS. So many businesses are already benefitting from cost savings, increased productivity, efficiency, employee satisfaction, and enterprise-class security by design – don't get left behind.
What Can You Use AWS For?
AWS brings together the world's most comprehensive range of cloud products and services to help you address business challenges and change with ease.
Backup, store and secure your data at scale
Automate processes and operations
Harness the power of machine learning and AI
Deploy virtual desktops in the cloud
Integrate SaaS applications and AWS services
Migrate databases with minimal downtime
Securely manage access to services and resources
Migrate on-premises servers to AWS
Run and manage enterprise applications
Connect and remotely manage IoT devices
Develop and deploy AWS applications
Streamline software development
Configure and deploy third-party apps on AWS
Why Amazon Web Services Is a Leading Cloud Platform.

High functionality.
AWS has more services and features than most cloud providers in the market. Add value across your business with a huge range of infrastructure technologies, applications, and digital tools. From cloud-based computer storage, to emerging technologies, such as machine learning, artificial intelligence, and internet of things, AWS is the cost-effective route to a high-performance cloud platform.
Unlock flexibility, agility and speed in your business and empower your teams to achieve more with endless cloud capabilities and functionality. Our team of cloud specialists will work with you to uncover your requirements and develop a cloud-first solution and migration strategy that adds value to your business – now and in the future.

Robust security.
Designed to meet the security requirements of high-sensitivity organisations from banks to the military, AWS is built with security at its core. Using AWS, you can operate your business with the control and confidence that your data is secure. AWS data centres and networks are architected to protect your information, applications, and devices. AWS supports 98 security standards and compliance certifications, and all 117 AWS services that store customer data support allow for data encryption.
Safeguard your corporate data with ease using AWS's range of cloud security tools, which come with over 200 security compliance, and governance features and services. Plus, you pay only for the services that you use. Automate security tasks and shift your attention to scaling and optimising your business knowing your critical infrastructure is protected.

Trusted by millions.
Amazon Web Services (AWS) has been providing cloud-based services to millions of customers around the world for over 16 years. With unmatched experience, performance, reliability and security, AWS provides a cloud environment that you can depend upon for the applications that are the beating heart of your business.
Businesses of all sizes and sectors are utilising AWS to scale, secure and modernise their operations. From start-ups to global enterprises, AWS is enabling a faster pace of innovation with access to leading technologies to help you transform your business. Say goodbye to the guesswork, trial and error with AWS. Access mature and proven cloud services platform that your organisation can always rely on.
The Business Benefits of AWS.
No added complexity.
Eliminate unnecessary complexity when it comes to hosting your website, software, and applications with reliable cloud web hosting within AWS.
Cost-effective.
Avoid being tied down by large upfront costs and access flexible per-user payment plans. You only pay for what you use – with clear cost visibility, and no scary surprises.
Protected and secure.
Protect your business from cyber threats with advanced end-to-end security capabilities in AWS. Build your business on an infrastructure that keeps hackers out, and security in
Flexible and scalable.
AWS gives you the power to mix and match products and services you need to meet your unique business requirements. Enjoy the freedom to scale storage and usage options based on the changing demands in your business.
Seamless hybrid working.
Your virtual workspaces can be accessed from any location, on any device. AWS hybrid cloud services deliver a reliable and consistent experience wherever you need it – from the cloud, to on premises, and at the edge.
Future-proof.
With AWS, you can harness the emerging technologies to adapt to change and innovate at speed. AWS is continuously finding new ways to help businesses achieve their goals, enhance innovation, and optimise operations in the cloud.

Make the Move to AWS With a Partner You Can Rely On.
848 is a dedicated cloud solutions provider and Amazon Web Services (AWS) Registered Partner. We have over a decade of experience in business changing IT and a team of certified experts specialising in cloud-first solutions.
We're trusted by organisations across the UK and beyond, 848 has delivered successful transformations to organisations of all sizes, from SMB's across all sectors, to large enterprises such as Deloitte, The Chartered Institute of Marketing, Incentive FM and more.