---
To turn Microsoft Teams into a complete Unified Communications as a Service (UCaaS) solution, you need an effective telephony integration. This blog looks at the differences between Operator Connect and Direct Routing for Teams, and their respective pros and cons. This will help you choose the right Teams calling strategy for your business.
Over the last few years, many organisations have transitioned their communications and collaboration landscape over to Microsoft Teams. As remote, hybrid and mobile working has grown in popularity, Teams has become a key platform for teamwork and productivity. In fact, it is regarded the most popular collaboration platform, with millions of monthly active users – 270 million to be precise.
Microsoft Teams started out as a chat-based workspace in 2016 to bring people, content and collaboration tools together. However, Teams has evolved, offering seamless Unified Communications as a Service (UCaaS) functionality, and even capabilities for contact centre management.
To access the full range of UCaaS features that Teams offers, the right telephony solution is required. Microsoft provide three core ways to connect to the Microsoft Phone System [Microsoft cloud PBX]. These are:
Microsoft calling plans
Direct routing
Operator Connect
---
Weighing up your options: Operator Connect vs Direct Routing vs Calling Plans
Microsoft has its own solution for access to the Teams phone functionality, this being its range of calling plans. The plans work on a per-user, per-month basis, and essentially enable businesses to adopt cloud-based telephony, fast. This means they aren't able to meet more complex or unique needs. For many organisations with specific requirements, the calling plans are not the most cost-effective option.
Operator Connect and Direct Routing are both more flexible solutions for those looking to access Microsoft Teams UCaaS functionality, while meeting specific business requirements. With both approaches you have the freedom to choose your own PTSN provider and manage your relationship with your voice operator. But before we look at how the options differ, let's establish what UCaaS is.
---
Defining Unified Communications as a Service (UCaaS)
According to Gartner, Unified Communications as a Service (UCaaS) is defined as a cloud-delivered unified communications model that supports six communications functions. This functions are:
Enterprise telephony
Unified messaging
Meetings (including audio, video and web conferencing)
Instant messaging and presence (both personal and team)
Mobility
Communications-enabled business processes
With UCaaS, infrastructure is owned, managed, delivered and supported by your chosen partner. This eliminates the need for a dedicated internal team or intricate infrastructure. UCaaS removes the capital investment often associated with setting up enterprise communications. Instead, your partner will integrate, operate, and support your communications systems on a subscription basis. The flexible and cloud-based nature of UCaaS makes it an efficient and cost-effective choice for any business.
Research suggests that 70% of businesses will use UCaaS solutions by 2023. This is because unified communications technology is moving more rapidly than ever before. The time and cost associated with owning, updating and adapting traditional unified communications systems is no longer feasible. Therefore, many are opting for UCaaS as a way to make enterprise telephony and communications more affordable.
With continuous innovation of the Microsoft Teams platform, companies can maintain flexible UCaaS with Microsoft through Operator Connect and Direct Routing.
---
What is Direct Routing for Microsoft Teams?
Direct Routing links Microsoft Teams with the PSTN (Public Switched Telephone Network) through an approved partner. This enables users to make and receive calls from anywhere and with anyone regardless of whether they use Teams.
Direct Routing provides true flexibility and integration as it enables you to use your own telephony carrier for PSTN connectivity. It is primarily designed for organisations set on using Microsoft Teams as a PBX (Private Branch Exchange), but seeking more flexibility than available with Microsoft calling plans.
Direct Routing is a fully managed carrier-class solution that can connect your Teams and Microsoft 365 deployment to PTSN networks. It also allows integration with other essential communication functions such as call centre platform.
To optimise your telephony offering, number porting allows you to port your existing numbers over to your cloud-based Direct Routing solution. Direct Routing interconnects with the Teams system, including built in security. Thereby, it gives you the confidence that you'll have stable and reliable communication channels that connect your business to clients.
What is Microsoft Operator Connect?
Operator Connect is a more recent option for calling functionality within Microsoft Teams. It differs slightly to Direct Routing in that it enables PSTN calling, but from a list of certified Operators. These include BT, Pure IP and Verizon. It provides an easier solution to control aspects of Teams calling as a managed service. Furthermore, you only pay for what you use in terms of calling services, rather than per user.
Operator Connect is likely to be the default route to get PSTN carrier numbers unless a business has specific requirements. It balances the convenience of ordering services natively through Microsoft Teams with the flexibility of Direct Routing.
The simplicity of managing and maintaining your phone numbers makes Operator Connect a favourable choice for many. Directly from the Teams admin centre, you can purchase and assign numbers, complete daily admin tasks, manage licenses, activate and deactivate numbers, request support from the operator and more.
There is no technical configuration or technical set up for deployment. As long as users have a Teams Phone System license, they can be assigned an Operator Connect phone number. This comprehensive cloud-based UCaaS solution is an easy and affordable way to securely connect your hybrid workforce.
---
Comparing the benefits of Direct Routing and Operator Connect
Advantages of Direct Routing
More cost-effective option than Microsoft calling plans
Flexible option for organisations with complex communication providers (including a mix of on-premise and cloud-based systems)
Maintain control over your inbound numbers and deals on your calling plans
Ability to route your calls to various systems and cloud providers
You have the choice to remain with your existing calling providers and benefit from the opportunities that brings
Access advanced features and global coverage (over 180 countries)
Advantages of Operator Connect
Leverage existing contracts in the list of Microsoft approved Operators or choose a new one
Communication services are flexible and fully managed by your partner
Quick and easy deployment
Easy to manage and maintain numbers directly from the Teams admin centre
Access technical support and shared SLAs to improve support service
Powered by Azure, providing a one-to-one network connection for enhanced reliability
Create automations to streamline provisioning, billing, and reporting
Cloud-managed solution
---
Establishing the difference between Operator Connect and Direct Routing
Both Operator Connect and Direct Routing are flexible solutions to adopt full UCaaS functionality in Microsoft Teams.
Operator Connect being the newer option, it has been referred to as the 'next version' of Direct Routing. However, both approaches provide effective 'as a service' solutions that meet the needs of different businesses. The key difference is in how the service is delivered to the end user. The actual end-user experience – regardless of where the caller and receiver are located – pretty much remain the same.
Operator Connect works best for organisations without complex requirements and who are able to sacrifice the flexibility of Direct Routing in favour of simplicity and ease of use. Smaller businesses may favour Operator Connect because they may not have the resources or desire to manage multiple carriers. Instead, they would rather deal with as much as possible directly through the familiarity of Microsoft Systems.
Direct Routing remains the most flexible option as you can integrate with your existing operator, and it meets the needs of businesses (often large) with complex requirements. Operator Connect is still evolving, but it seems to be the most user-friendly approach for IT teams managing PTSN connectivity in hybrid settings.
---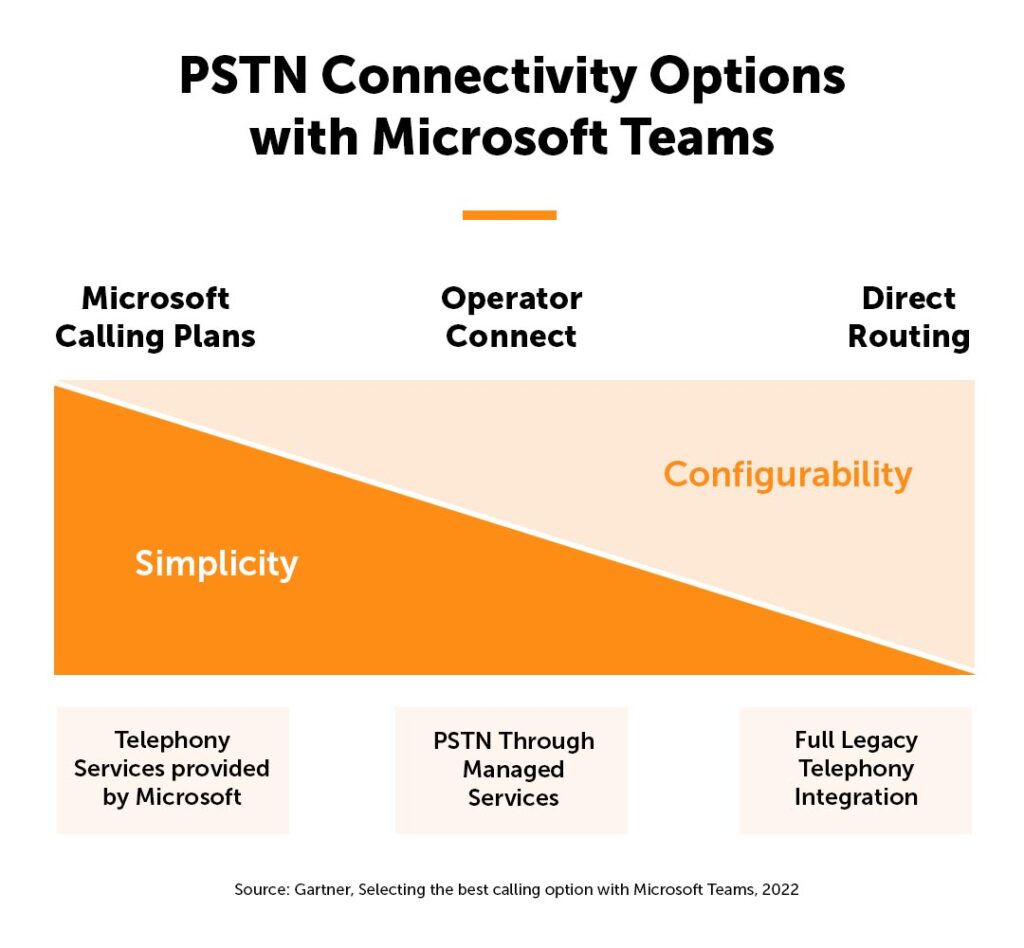 ---
Which approach is right for your business?
Direct Routing is a better approach for organisations looking for more flexibility in choosing carriers, greater routing options to on-premises legacy systems, access to advanced features and wide global coverage.
Operator Connect on the other hand is an option best aligned for organisations seeking a quick and easy deployment, a flexible and fully managed cloud-based service, enhanced reliability, and support from operators. It is also favourable to those who do not have complex requirements to support legacy systems, or do not wish to use PowerShell to set up and maintain the routing experience.  
If you would like more information about adopting the right telephony system for your business, then get in touch with a member of the 848 team.
Kate is a Marketing Executive researching and writing about emerging technologies and the cloud on a daily basis. She creates informative and educational content assets such as blog posts, articles and resources using strategic messaging to illustrate how a modern IT landscape can deliver real business value.