SmartFreight and 848 Announce Partnership to Provide Smarter Shipping Solutions
---
Many businesses have the need to ship goods by carrier and this has only increased as the coronavirus pandemic has taken hold. Managing transport providers can be complex and time consuming, which is why the 848 Group chose to streamline the process for its customers by partnering with SmartFreight.
848, a cloud-first market leader in business IT solutions and a Microsoft Gold partner, says joining forces with SmartFreight provides greater choice and value for its customers, options that they can then pass on to their own customers when it comes to cost versus speed of delivery for goods. 848 uses a "Plan, Build, Run" methodology that has been developed, fine-tuned and proven over the past decade, and only recommends solutions they would use within the business themselves to ensure they offer business value.
SmartFreight's Carrier Management Solution (CMS) gives 848's customers access to myriad carriers and automated services to ensure that all consignments are being sent in the most efficient manner whether that's by the cheapest route, the most reliable service, by the fastest option or the carrier with the lowest CO2 footprint. It's one more step on the route to 848's aim of achieving a complete, seamless integration of e-commerce with ERP and advanced carrier management, to create a truly connected business offering.
---
Andy Mallett, Solutions Director at 848, explained:



"848 builds compelling business applications surrounding the Dynamics 365 platform, seamlessly integrated and optimised to maximise value, and we see SmartFreight's clever shipping solution as a perfect addition. SmartFreight has a positive and modern approach to business and this aligns closely to 848's mission and strategy – we are a cloud-first company, committed to providing business changing IT solutions, and our new partnership will further enable us to deliver true business change.



"This will accelerate the route to shipment optimisation for our customers and further support tracking and drop shipping. We choose our strategic product portfolio partners because they have an approach to their product that mirrors the agility and speed of Microsoft. We like to play our part by being an active voice in product improvement with all our partners and see 848 providing value back to SmartFreight. They are passionate about their product and that is important to me, and we're looking forward to working together and bringing our partnership to the market."
CMS is a triple saving solution – time saving, error saving and cost saving – because it frees staff from repetitive tasks like retyping orders and consignment information. Pushing massive numbers of shipments through a completely automated system improves the overall efficiency of a business and the speed of response. Another advantage of SmartFreight's CMS is that it offers consolidated tracking solutions – perfect when juggling multiple carriers with different delivery offerings. A branded email that can be used as a signature is generated as well as a portal, so the customer can click on a link and see the whereabouts of their order on its journey – no matter which carrier is used, it's exactly the same functionality and service level that's provided.
SmartFreight's European Channel Manager Natasha Jones added:

"848 customers range from SMEs to large blue-chip enterprises across all industries. Any one of them shipping goods from one location to another can access the SmartFreight platform which helps them to deliver complete, integrated end-to-end solutions. "It's brilliant shipping optimisation for businesses using more than one transport provider and wanting to move over from a manual or semi-automated shipping booking system. 848's customers get advanced carrier management resulting in a better delivery experience, being able to monitor shipments, how the carrier is performing and invoice reconciliation. This is our first Microsoft Gold partnership and we're really excited to see where it leads."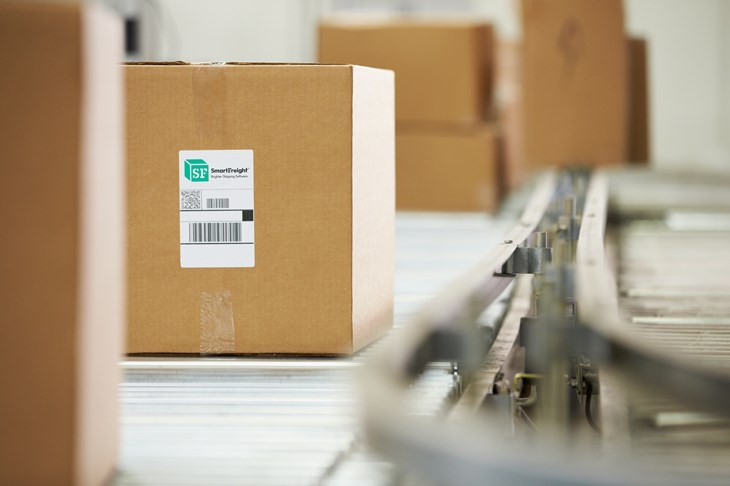 SmartFreight integrates into and works with hundreds of different back office systems and is a partner of 848. For more information on SmartFreight's pioneering shipping solutions visit www.smartfreight.com
---
Want to learn more about smart shipping solutions from SmartFreight & 848? Get in touch!
---